Werewolves: The Real Reason Disney Halted Johnny Depp's Lone Ranger Movie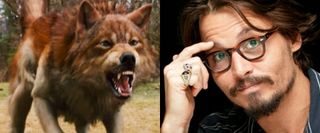 When big news breaks late on a Friday night it's almost always bad, especially when it's a big Deadline story that starts with "SHOCKER!" That's how we all found out that The Lone Ranger, the huge Western with Johnny Depp as Tonto and Armie Hammer as the titular hero, had been cancelled by Disney, even as production was gearing up in New Mexico. A few reasons seemed obvious on the surface, primarily the movie's ballooning price tag ($250 million or higher) and concerns about reviving a partly forgotten hero from the golden age of radio. But some evidence trickled through over the weekend that there's another culprit to blame: Cowboys & Aliens.
That $200 million sci-fi Western has tanked at the box office, making just $88 million worldwide so far, and according to Hollywood Elsewhere The Lone Ranger would have been a lot more similar to it than you would expect. An excerpt of the script posted there reveals that the plot would have involved werewolves, along with Native American occult remedies and spirituality and, it should go without saying by now, a lot of CGI special effects. Here's how an anonymous person familiar with the script describe it:
It's no surprise to hear that the story was going to focus on Tonto-- Depp, after all, is the world's biggest movie star, while Hammer is an up-and-comer who caught a seriously huge break getting cast in this thing. And I guess the mysticism shouldn't be a surprise either-- after all, look at how trippy Verbinski and Depp's last desert-set collaboration, Rango, managed to be. But it was entirely possible for this movie to be a lean, entertaining Western, a genre of movies that first came to exist because it was cheap to make; instead, producer Jerry Bruckheimer helped push for this to be yet another one of his expensive spectacles, and given that the fourth Pirates film is the only one of Bruckheimer's recent movies to be a hit, Disney rightly balked.
Deadline has updated their initial post to emphasize that The Lone Ranger could still happen-- an insider told them, ""Let's see how it all shakes out on Monday. There's always a chance that it could go. You never know until you know." Maybe Verbinski spent the weekend locked in a room with screenwriter Justin Haythe as they frantically reworked the script to cost less. Maybe they've ditched the whole werewolf idea entirely. It would be surprising if Disney dropped the project entirely, given how much money Depp has made them over the years and how much he deserves to do whatever the hell he wants. As surprising as the news on Friday was, if the result is a leaner, more efficient Lone Ranger, this may have all been for the better.
Staff Writer at CinemaBlend
Your Daily Blend of Entertainment News
Thank you for signing up to CinemaBlend. You will receive a verification email shortly.
There was a problem. Please refresh the page and try again.