Dumb And Dumber To Parodies Lucy With The Perfect Poster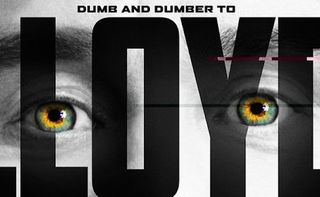 Lucy isn't the only movie character whose brain capacity percentage is relevant. Lloyd's brain is important to. Dumb And Dumber To star Jim Carrey shared the above poster, which parodies Lucy but switches up the math a bit to remind us that Carrey's Dumb and Dumber character's brain is also functioning outside the norm, in its own way. Because Lloyd Christmas is anything but average.
Note the words at the top of the poster: "The average person uses 10% of their brain capacity. Imagine what he could do with 1%." One look at the poster for Luc Besson's Lucy and it all makes sense:
Lloyd even gets his own rainbow eyes to stare us down with his 1%.
Currently in theaters now, Lucy stars Scarlett Johannson as a woman who's tricked into being a drug mule. When the synthetic drug leaks into her system, she acquires more and more use of her brain, which gives her enhanced mental and physical abilities. Lloyd's brain usage is about 99% lower than Lucy's. Still, with 1% hard at work, imagine the possibilities!
Seriously, can Lucy do this?
Stealthy.
Directed by Bobby and Peter Farrelly, Dumb and Dumber To bring Lloyd (Jim Carrey) and Harry (Jeff Daniels) back together for more ridiculous shenanigans as the two embark on a road trip to find a child Harry never knew he had. The trailer shows off some of the goofiness is in store when Dumb and Dumber To arrives in theaters this November. Watch the trailer after the jump!
Your Daily Blend of Entertainment News
Thank you for signing up to CinemaBlend. You will receive a verification email shortly.
There was a problem. Please refresh the page and try again.