Dumb & Dumber Sequel Dead Without Jim Carrey, Says Jeff Daniels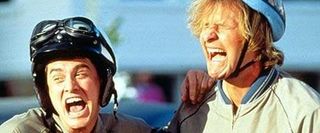 Though he did it with a lot of wit, Jim Carrey broke a lot of hearts yesterday when the issued an announcement saying he'd stepped away from Dumb and Dumber To, the deliberately misspelled title of the sequel he was planning with Jeff Daniels and the Farrelly Brothers, finally reuniting the idiot characters Lloyd Christmas and Harry Dunne for the sequel they'd been talking about for years. Carrey didn't seem to think Warner Bros. and New Line were committed enough to making the project happen, even though the Farrellys had been talking confidently about it for months now-- and after the failure of The Three Stooges, they were probably especially eager to make it happen.
Now Daniels has confirmed what we all pretty much expected: without Carrey, there is no movie. MTV caught him on the red carpet in advance of the premiere of his new HBO series The Newsroom, and Daniels said it simply: "No, nobody's doing it without Jim." To be honest, it's unclear how much Daniels is really upset about the project falling apart. He's done a lot of excellent work in the last decade that seemed to directly counteract his Dumb & Dumber goofball reputation; on The Newsroom, the new show from Aaron Sorkin, Daniels seems to be taking on one of his most challenging roles yet. As beloved as Dumb & Dumber is, wouldn't a sequel have been a step in the wrong direction?
I guess now we never get to find out. You're welcome to share your heartbreak about the death of Dumb and Dumber To in the comments, but right now it looks like no matter how much you cry, this movie is not getting off the ground.
Staff Writer at CinemaBlend