Jim Carrey Drops Dumb And Dumber Sequel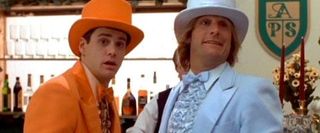 When the Farrelly Brothers were promoting The Three Stooges back in April, the pair surprised many by announcing plans to make a sequel to one of their most popular pictures, 1994's Dumb and Dumber, going so far as to insist Dumb and Dumber To (yes, spelled "to" for some reason) would shoot this fall. While neither of the film's stars (Jim Carrey and Jeff Daniels) nor the Farrellys had anything to do with the forgettable 2003 prequel Dumb and Dumberer: When Harry Met Lloyd, Carrey had teased an interest in reprising his role as the chip-toothed buffoon Lloyd Christmas. But now, THR reports Carrey has left the project over concerns that Warner Bros. and New Line have no real enthusiasm for it, saying in a statement:
As scathing press releases go, this one's pretty witty. But with details on this drop out being scarce, it's hard to be certain what "lack of enthusiasm" means in this context. However, I suspect the studio wasn't willing to offer a major budget—and by extension worthwhile paydays—for a picture helmed by a filmmaking team whose recent releases have been critically reviled and only moderately successful. On top of that Carrey isn't exactly a star who guarantees a bankable box office anymore, and Daniels—though remarkable—never was.
Ultimately, if this isn't a power play on Carrey's part to get Warner Brothers to offer more money, this will be the death rattle of Dumb and Dumber To. But don't worry about Carrey and Daniels. The former is hitting theaters next year opposite his Bruce Almighty co-star Steve Carell in Don Scardino's magician-centered comedy The Incredible Burt Wonderstone, and Daniels is starring in HBO's new Aaron Sorkin-spawned drama series Newsroom, which premieres this Sunday. Undoubtedly, the two that will be hit hardest should this proposed pic go belly up is the brothers Farrelly, who in the wake of The Three Stooges' dismal performance, need a hit more than ever.
Your Daily Blend of Entertainment News
Staff writer at CinemaBlend.