Eastbound & Down's Jody Hill May Reboot Dukes Of Hazzard At Warner Bros.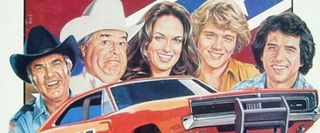 Since making his directorial debut with the dark, dark indie comedy The Foot Fist Way, Jody Hill has found two very different kinds of cult success. His 2009 feature Observe and Report, starring Seth Rogen as pretty much the world's worst mall cop, won some devoted fans but almost no box office, while his HBO series Eastbound and Down ran for three seasons before ending, on its own terms, a few weeks ago. Not a lot of people know Jody Hill's name, but most who have heard of him love them-- and he looks ready to parlay that cult success into a much bigger kind of film.
According to THR, he's signed up with Warner Bros. to direct an action film set in the South in the 1970s-- and with the involvement of Bill Gerber, who produced the 2005 Dukes of Hazzard movie, there's talk that whatever Hill writes could become a new Dukes of Hazzard film. At the same time, some people are saying Hill wants to make a film in the vein of Sam Peckinpah films like The Wild Bunch, which doesn't really fit at all with the cartoony, over-the-top style of the Hazzard TV series.
But if you think about Hill's previous work, that kind of mashup might make sense-- The Foot Fist Way and Eastbound & Down both took place in the South and focused on the kind of rednecky character you might expect from Hazzard, but also incorporated violence and darkness in a way you might expect from a brutal Western like The Wild Bunch. With Hill still writing, everything seems in the embryonic stage, and there's no guarantee the movie will ever get made. But if you're an Eastbound fan still mourning the end of the series, this may help make that transition a little easier.
Your Daily Blend of Entertainment News
Staff Writer at CinemaBlend