Ed Helms' Naked Gun Remake May Be In Trouble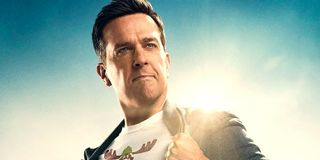 Ed Helms recently headlined the Vacation sequel for Warner Bros., but he was also announced in the lead role of another '80s resurgence: Naked Gun. It's been a while since we've heard anything on that front, but Helms recently spoke about the film and it turns out its future is not as secure as we might have thought.
The actor went into the Yahoo Movies studio to make the press rounds for Vacation, and he was asked about the status of the Naked Gun reboot. He said,
The next Naked Gun movie was announced back in December of 2013. Thomas Lennon and R. Ben Garant of the Night at the Museum and Reno 911 franchises were enlisted to write the script, while Helms stepped into the role of Detective Frank Drebin, made famous by Leslie Neilsen. We got an update on the film in January 2014, when Garant said the film will be more of a sequel than a traditional reboot. He went into further detail by saying they're trying to reinvent the world while embracing the style of the original.
Then we got a contradictory update in March of this year from original director David Zucker. He said that the new Naked Gun won't be like his version, meaning it won't be in that same style of spoof. At the time we took his statements with a grain of salt or two, because it seemed, based on his own admission, that he wasn't really involved with the project, but now they're aligning with what Helms is claiming. So, ultimately, it seems like this could be in a bit of turmoil.
The original Naked Gun films are based on the ABC spoof series Police Squad! that lasted for six episodes before getting the axe. The first film, subtitled From the Files of Police Squad!, was released in 1988 and featured Drebin attempting to thwart an assassination on Queen Elizabeth II at a Los Angeles baseball game. Naked Gun 2 1/2: The Smell of Fear came in 1991 and Naked Gun 33 1/3: The Final Insult came in 1994. The franchise became famous for its particular brand of humor. If you're unfamiliar, Drebin famously compared the relationship between cops and women to swallowing Drano. "Sure, it'll clean you out, but it'll leave you hollow inside," he said in the first film. To potentially stray from this slapstick brand of humor seems to betray the franchise's heart and soul, but then again, a contemporary reimagining could make its own mark.
Your Daily Blend of Entertainment News