How Ed Helms Will Feel If He's Replaced For The Next Vacation Movie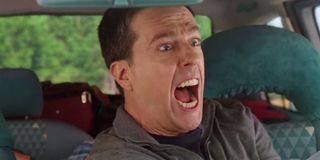 Tradition dictates that Ed Helms be recast as Rusty Griswold should Warner Bros. move ahead with another Vacation movie. The charcter was played by Anthony Michael Hall in National Lampoon's Vacation, Jason Lively in European Vacation, Johnny Galecki in Christmas Vacation, and Ethan Embry in Vegas Vacation. There was even a Vacation short film called Hotel Hell that featured Travis Greer as Clark's son. If this does in deed happen, however, Helms wouldn't be too happy.
Yahoo Movies caught up with the actor while he was out promoting the latest Vacation to ask him some questions posed by fans on social media. One Twitter user, Kevin Crossman, asked Helms if he'd be sad for any potential recasting. Helms replied:
The studio hasn't announced a sequel to Vacation, given it's less than stellar box office numbers. The film debuted this past week and was squashed underneath the weight of Mission: Impossible - Rogue Nation, and it barely beat Ant-Man. Furthermore, it earned the near universal ire of critics — including this guy! And I wasn't even the harshest. Globe and Mail said there was "so much dead air," Nerdist wrote it's "so constantly and oppressively gross," and Rolling Stone said "the gags smack of desperation." We'll have to see how it performs in the weeks ahead, but this coming weekend sees the debut of Fantastic Four, which is expected to beat Vacation at the box office. Long story short, I wouldn't hold my breath for another installment in the near future.
That said, if WB does eventually decide to move ahead with another Vacation, and on top of that recast Helms — who was criticized for unsuccessfully carrying the franchise — he's certainly not alone. He can chat with the other Griswolds who came before him, especially the actresses who played his on-screen sister Audrey. Leslie Mann assumed the role in this iteration, but she succeeds the likes of Dana Baron (National Lampoon's Vacation), Dana Hill (European Vacation), Juliette Lewis (Christmas Vacation), and Marisol Nichols (Vegas Vacation).
This latest Vacation imagines the character of Rusty, now all grown up and a pilot for a low-level airline, with a family of his own. He and his wife Debbie (Christina Applegate) and his two sons are stuck in a rut and he tries to rekindle their old family magic by taking them on a road trip to Walley World, just like when he was a kid. As things normally go when there's a Vacation movie involved, they encounter one tumultuous event after another, whether that's Debbie vomiting up a pitcher of beer at a sorority party, the Griswolds wading into a pool of human or non-human waste, or getting chased by a trucker across the country.
Your Daily Blend of Entertainment News
Thank you for signing up to CinemaBlend. You will receive a verification email shortly.
There was a problem. Please refresh the page and try again.