Eddie Redmayne On Les Miserables' Hard Days And How Blake Lively Inspired His Audition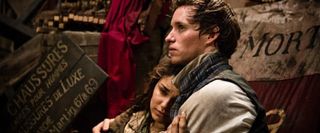 Eddie Redmayne teared up twice in the 15 minutes I spent talking to him. I was used to seeing him cry, of course, after seeing Les Miserables, in which he plays the fearless student Marius, torn between the revolution he's helped stoke and his newfound love for the beautiful Cosette. Les Miserables is a tear-streaked movie from start to finish, and in Tom Hooper's film version, you see every teardrop in tight closeup; Redmayne is not immune.
It's one thing to see an actor bare his soul on the screen, but quite another to see his eyes well up simply by recalling the experience. Talking about filming the "Little Fall of Rain" duet, which Marius sings with the dying Eponine, Redmayne described the hush of the 150 crew members that surrounded him and Samantha Barks, and how his background in theater (he won a Tony for Red in 2010) allowed him to embrace the emotion of the moment even with so many others in the room. He leaned in to sing a few bars of the song to recapture the moment, and I saw his eyes shining. It was startling and moving and an absolute first for me in an interview. You're lucky to get an interview subject who acts like he wants to be there, much less gets emotional telling stories about a film he made a year ago.
But the Les Miserables crew has always seemed like an unusual bunch, a group of avowed fans of the musical who would get together after shooting ended to unwind by singing at Russell Crowe's house, who spent weeks rehearsing before shooting began, and who bend over backwards to compliment each other in press conferences. Anne Hathaway said she only regrets cutting off her hair for the role "when I get to spend time with Amanda Seyfried, whose hair is so beautiful." Hugh Jackman recalls Hathaway being there on set the day he sang the emotional "Valjean's Soliloquy." Redmayne, for his part, says he was jealous of child actor Daniel Huttlestone, who plays the impish Gavroche: "He was so brilliant, so effortless and wonderful. My inner 7-year-old was so happy and deeply jealous."
Despite his childhood dreams of being Gavroche and years of acting onstage, Redmayne had no professional singing experience at all until a night of singing at Blake Lively's house, of all places, inspired him to seek out a musical role. Redmayne co-starred with Lively in the indie drama Hick, and after a party at her house near the set in North Carolina turned into a Les Mis singalong, he recorded himself singing Marius's big number "Empty Chairs and Empty Tables" on his iPhone and sent the video to his agent. As it happens, Tom Hooper-- who directed Redmayne in the TV film Elizabeth I in 2005-- was casting Les Miserables around the same time. Redmayne swears it was entirely a coincidence.
In the film Redmayne is frequently paired with two major musical veterans-- Aaron Tveit, who plays fellow revolutionary Enjorlas, and Barks, who played Eponine on the West End before shooting the film. But Redmayne says the blessing of the film was how unfamiliar the entire group was with shooting a movie musical, especially one in which they were asked to sing live on set:
Of course, those doubts never come through on the screen, for Redmayne or anyone else. Multiple people who have seen Les Mis both on stage and screen say they never cared about Marius in the stage version, but on screen Redmayne makes him feel real and alive-- his version of "Empty Chairs and Empty Tables" is the film's biggest showstopper after Hathaway's "I Dreamed A Dream." And with the benefit of film we see more of Marius's struggles on the barricade, from close moments between him and his fellow revolutionaries to Jean Valjean's heroic efforts to rescue Marius from the battle. Like any actor Redmayne valued the challenge but…. "It was such rigorous shooting process, and fueled by passion, but my god there were hard days. The way Tom likes to work is he likes to create real scenarios. Hugh was carrying me through disgusting sewer stuff." He credits the arrival of Sacha Baron Cohen and Helena Bonham Carter with lightening the mood: "Three-quarters of the way in, Helena and Sacha arrived, and it was just this lightness that, my god, we needed."
Since last year's My Week With Marilyn Redmayne has seen his profile in the industry change, and with news that he could be taking a role in the massive sci-fi project Jupiter Ascending opposite Channing Tatum and Mila Kunis, it's obvious that many more people are now paying attention to the actor who kicked off his Hollywood career playing a young man in an incestuous relationship with his mother (Julianne Moore). He admits that bold move, plus his attachment to theater, may have kept people from seeing his range, but that shouldn't be anything he has to worry about anymore. And if he remains the deeply empathetic actor who tears up talking about his work and is careful to thank the piano accompanists (Roger Davison and Jennifer Whyte) whose work is never even heard in the film, he ought to have no trouble winning over more fans who are even more awestruck by him than I am.
Your Daily Blend of Entertainment News
Staff Writer at CinemaBlend