Elizabeth Olsen's Horror Film Silent House Hitting Theaters Next March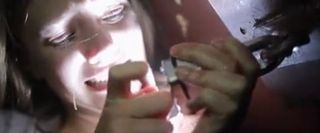 In case you weren't aware, there is a better looking, less cracked out member of the Olsen family that until now seemed to begin and end with Mary-Kate and Ashley. Elizabeth Olsen made a huge splash at Sundance earlier this year appearing in two films that each got themselves a lot of attention.
Martha Marcy May Marlene was the big one, which is out now in limited release, but Olsen also starred in the horror film Silent House. That film was snatched up for distribution by Liddell Entertainment at the festival in partnership with Open Road Pictures, who stepped in later. Now they've finally set a date to unveil Silent House to the world on March 9, 2012, according to Deadline.
The film follows Sarah (Olsen) who, with her father, moves into a house for a night in order to make repairs the next day and then put the property up for sale, but of course something happens as horror ensues. Silent House is a remake of a Uruguayan film of the same name that is based on true events that happened in the 1940s. The real hook though is that both films were filmed in one continuous 78-minute shot. Probably there's some clever cutting in there if you look for it, but either way that is an impressive feat.
The remake has generated some strong buzz for both Olsen and directors Chris Kentis and Laura Lau, whose previous film Open Water also found its footing at Sundance back in 2004.
Olsen can also be seen in Peace, Love, & Misunderstanding which is currently making the festival rounds, and the actress has three movies in post-production set for 2012 releases. Get used to her, gang. You're going to be seeing her a lot.
Your Daily Blend of Entertainment News
Thank you for signing up to CinemaBlend. You will receive a verification email shortly.
There was a problem. Please refresh the page and try again.