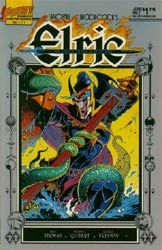 Fantasy-based films are a tricky genre. Occasionally, you end up with a Star Wars or a Lord of the Rings, but most of the time you get Battlefield Earth and Eragon. Thus a new gamble will be taken with the fantasy series "Elric," which will be helmed Nutty Professor 2: The Klumps writer Chris Weitz. With the help of his American Pie-director brother Paul, the two will tackle the mythological story of an educated, sickly albino emperor who abandons the throne, reports Empire.
"Of the great classic fantasy series, it's the one that hasn't been done yet," Chris Weitz tells Empire . "My brother Paul and I liked those books growing up and we've met Michael Moorcock and he trusts us to take those books forward."
The adaptation will be produced by The Weitz's Depth Of Field production company, but has yet to sign a director. "I'd really like it if my brother directed them," Weitz added. Nothing says fantasy like a sickly, albino emperor with a pie on his dick.
Your Daily Blend of Entertainment News
Thank you for signing up to CinemaBlend. You will receive a verification email shortly.
There was a problem. Please refresh the page and try again.