Emily Blunt Makes Three Iron Man Villains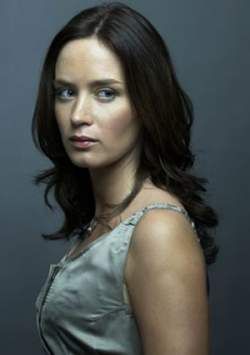 Iron Man 2 is apparently on the verge of adding Emily Blunt to its ranks, and I'm getting a little worried. We've already heard that Mickey Rourke and Sam Rockwell are both signing on as villains, and now Blunt is apparently being pegged for the role of Natasha Romanoff, a Soviet spy who doubles as baddie Black Widow.
Three villains crammed into a sequel? I'm getting a bad Spider-Man 3 vibe here, and I had assumed all along that screenwriter Justin Theroux was smarter than that. Variety has the story, and while the whole thing isn't confirmed yet, it's hard to imagine going back on this kind of rumor.
I like Emily Blunt a lot, really I do, and I love the idea of a new female supervillain. But Iron Man 2 is getting dangerously close to overstuffed, while the joy of the first movie was in how simple and straightforward it was. Yeah, the complex overlapping plots of The Dark Knight were satisfying, but take one false step, and you've got Green Goblin Jr. and Sandman and Venom all making a mess out of things. Watch where you step, Theroux.
Staff Writer at CinemaBlend
Your Daily Blend of Entertainment News
Thank you for signing up to CinemaBlend. You will receive a verification email shortly.
There was a problem. Please refresh the page and try again.