Emma Watson Is Not Old And Washed Up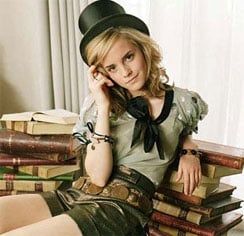 It was two years ago this month that we first brought you news that Scarlett Johansson was going to be playing a 14 year old in the movie, Napoleon and Betsy. At the time, Josh wondered if Scarlett (21 then) might be a little too old to play 14. Well, time marches on the movie hasn't been filmed and our Ms. Johansson isn't getting any younger looking so there was really only one thing to do: replace her with someone else who can play jailbait but is not actually jailbait.
Fantasy girl for Potter-geeks everywhere, Emma Watson has replaced Johansson as the titular Betsy. Watson is only 18 which makes her attempt to play a 14 year old only unbelievable rather than ridiculous. Or, as Hermoine might say, "Ridiculouso Magicusa." Watson's role will be as a young noblewoman who is on the British island of St. Helena at the time Napoleon is exiled there. She falls in love with the ex-Emperor/blood-thirsty dictator.
The movie was written and will be directed by Benjamin Ross, assuming they get it off the ground before the role has to played by Abigail Breslin. The part of Napoleon hasn't been announced, but since he was 52 when he died, chances are it won't be Channing Tatum. Filming will likely be this fall before they get going on the last Harry Potter movies or Watson's boobs get any bigger.
Your Daily Blend of Entertainment News