Encyclopedia Brown Movie Back To Life At Warner Bros.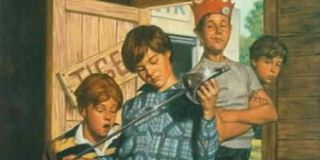 I've never been good about seeing a movie's twist coming ahead of time, or even following a particularly complicated plot, and really, I've known this all along. I was an avid Enyclopedia Brown reader as a kid, devouring the many mysterious tales of the kid detective from Idaville, a town with-- as we were reminded at the start of every book-- two delicatessens. But I never, ever got the jump on Encylopedia before flipping to the end of the book to figure out how he cracked the case. It's led me to many happy Law & Order re-runs, but no potential for a career as a detective.
Now another generation of kids will have the chance to be outsmarted by Encyclopedia and they don't even have to crack open a book to do it. THR reports that Warner Bros. has acquired the rights to the iconic children's book series by Donald J. Sobol, who wrote the books until his death last year. This isn't the first time the character has been making his way toward the screen-- in the early 80s there was even a project in the works with Chevy Chase and Goldie Hawn set to star-- but this might be the most promising. A name no less big than Ridley Scott was developing it a few years back, but he's a notorious over-committer, so you can never actually count on him bringing something to fruition until the cast steps on set.
So far the only names attached to the film are Roy Lee and Howard David Deutsch; Lee's behind the fairly great-looking Lego Movie, while Deutsch has controlled the screen rights to Encyclopedia Brown since 1979, and was behind the short-lived late-80s HBO series about the boy detective (man, can you imagine HBO making that these days instead of True Blood?) Because we live in a beautiful Internet age, you can watch a lengthy 15-minute clip from that show below:
Here's one of the obvious problems that comes up from just watching a few clips-- how do you have a know-it-all 10-year-old as the hero of a movie without totally wanting to punch him? I can barely make it through a minute of that without wanting to give the kid a wedgie, and I loved those books. Maybe kids are eager to see a movie about a kid who outsmarts everybody else-- and I can imagine myself wanting to watch that then. But there's a big difference between reading and solving the crime alongside Encyclopedia and watching him get all smarmy on the screen.
In the meantime, if you want to check out a movie that keeps the Encyclopedia Brown spirit alive without having to deal with actual kids, our beloved Mystery Team ought to do the trick.
Staff Writer at CinemaBlend