Every Best Animated Feature Oscar Winner, Ranked From Worst To Best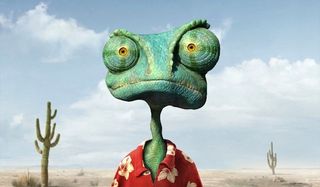 As coveted as the prize may be, the Best Animated Feature award at the Oscars is a relatively young category. The prize wasn't given out until 2001, but despite its brief tenure, they've made up for that by giving the trophy to some truly amazing movies in that span. There are seriously some all time greats included on this list.
Pixar's Inside Out took home the Best Animated Feature Oscar at the 88th Academy Awards this past weekend, and a well-deserved nod it was. (Though Anomalisa is great, it's hard to deny Inside Out.) With that in mind, we thought we'd take the opportunity to rank the fifteen winners from worst to first. Keep in mind that we acknowledge that these are all fantastic movies—we're not saying any of them are bad—but we still prefer some over others. Feel free to tell us why we're horribly mistaken in our rankings in the comments below.
15. Rango
In a field of movies populated by strange characters, magical creatures, and all kinds of weirdness, Gore Verbinski's 2011 Rango may be the most unusual. And that's saying something. Essentially an animated spaghetti western starring anthropomorphic desert creatures, the story revolves around a Johnny Depp-voiced domesticated chameleon trying to survive the arid wastes of the Mojave. A off-the-wall, existential, occasionally hallucinatory take on the genre, Rango is a bit scattered, but more than makes up for that with its unique sensibilities and straight up wackiness.
14. Big Hero 6
Based on the Marvel comic of the same name, Disney Animation's adaptation of Big Hero 6 tells the story of a young robotics prodigy, his adorable relationship with a jumbo-sized inflatable robot, and a band of high-tech junior superheroes who must foil a plot in San Fransokyo. A kind of junior Avengers, the action-packed story is cute and touching in all the right ways, a spectacle to behold, and a whole lot of fun. Though it never truly transcends the genre trappings to become something more, and it still beat out The Box Trolls.
13. Brave
Pixar is known for turning out fantastic films with numerous layers that appeal to both younger fans and their adults. While 2012's Brave is still a fun, rousing adventure, it never quite struck the same chord with a broader demographic. That's not to say it's not a worthwhile movie, because it is, it just doesn't always hit the highs of their other films, which is a lofty aim indeed. The story of Merida, the brash, headstrong daughter of a Scottish king, she rejects the normal gender roles and the destiny she was born into in favor of striking out on her own and forging her own path. As Pixar's first female protagonist, she is a memorable heroine indeed. I'm not entirely sure that it was better than both ParaNorman and Wreck-It Ralph, both of which it beat for the Oscar, but it is still well worth your time.
12. Happy Feet
Wait, Mad Max mastermind George Miller directed an animated feature about adorable dancing penguins, you say? Why yes, yes he did. In between trips to the post-apocalyptic wastes, the Australian filmmaker ventured to a very different kind of desolate environment. In a world where singing a song can mean a lifetime of love and happiness or one of loneliness and isolation for an emperor penguin, a young bird named Mumble is born with no singing ability at all. But he sure can dance. With themes of tolerance, acceptance, and environmental responsibility, it's the stupendous song and dance scenes that set Happy Feet apart.
11. Shrek
Admittedly, DreamWorks' 2001 Shrek is not my favorite of the Best Animated Feature winners (I know I'm going to catch flack for that, people love the hell out of this movie). That said, in addition to being the first film to win this award, it was a massive game-changer and remains hugely influential. It was a send up of classic fairytales, though at the same time it turned the formula on its head and eschewed the traditional tidy, good-is-rewarded-evil-is-punished, black-and-white narrative that so many of those stories cling to. It really broke the mold and created a new template, one that has been followed by countless subsequent films, even others on this list. And who doesn't want to listen to Mike Meyers voice an ogre and Eddie Murphy as a smart ass donkey?
10. Wallace And Gromit: Curse Of The Were-Rabbit
While 3D computer animation dominates the current landscape, Wallace and Gromit: Curse of the Were-Rabbit is a quaint throwback to an almost entirely underutilized technique. Proving that stop-motion is still a viable form of animation, Curse delivered not only a gorgeous movie, but one that is sweet and strange and delightful, not to mention a bit creepy and eerie when it needs to be. When lovable but scatterbrained weirdo Wallace, and his faithful canine companion Gromit, set out to find out who is sabotaging their garden, they find much more than they expected. It may be a painstaking, meticulous process, but the finished product proves that it was well worth the effort.
9. Ratatouille
It's not always easy to achieve your dreams, just ask Remy, the hero of Ratatouille. He dreams of being a chef, which is all well and good, but considering he's a rat, and kitchen work is generally diametrically opposed to rats, you can see the problem. But when he forms an unlikely alliance with a young kitchen worker, the real story begins. Written and directed by Brad Bird, the man behind The Incredibles, The Iron Giant, and more, you knew this was going to be fantastic, and though it revolves around a rodent, the film is a decidedly human story about following your dreams, defying expectations, and following your own path. And casting Peter O'Toole as a fancy restaurant critic is a stroke of brilliance.
8. Frozen
When Walt Disney Animation released Frozen in 2013, the entire world went nuts for the film. It was a huge box office smash, earning more than $1 billion, and it was critically lauded and celebrated as one of Disney's greatest films since their renaissance. That's obviously one hell of an achievement, and they're not wrong. Based on Hans Christian Andersen's The Snow Queen, it tells the story of a fearless princess' quest to find her estranged sister. Enlisting the help of an iceman and his goofy reindeer sidekick, not to mention a talking snowman, Frozen is adventurous, moving, challenges gender stereotypes, and is a gorgeous fable. It doesn't hurt that it's full of sweeping, epic musical numbers that rank among Disney's best.
7. Finding Nemo
The lengths parents are willing to go to in order to protect their children has been fodder for movies since day one (not to mention novels and plays and such). When his son is taken from their home on the Great Barrier Reef, a timid clownfish must set out on a perilous journey across the sea to rescue him. That sounds pretty simple, but Disney's Finding Nemo is anything but. Full of eye candy, engaging, sympathetic characters, and more adventure than you can shake your flipper at, Finding Nemo is creative, involving, sweet and silly, and packed with humor, stunning undersea visuals, and heart like few other films.
6. Up
Pixar's 2009 film Up is an unlikely movie. Not only does the story feature a flying house held aloft by balloons, the story centers around the friendship between a 78-year-old man and a young Wilderness Explorer. Beyond that, the first ten or so minutes is a heartbreaking mini-narrative of crushing loss, tragedy, and sadness that includes life, love, and death. It's not exactly the typical stuff that animated features are built on. Imaginative, adventurous, and moving, Up melds action, emotion, friendship, and a talking dog seamlessly into a poignant movie that's full of life and illustrates that you're never too old or too young to follow your dreams.
5. The Incredibles
Superhero movies are a dime a dozen these days, but there aren't may like The Incredibles to be found. The story revolves around a family of superheroes who are forced into a kind of witness relocation program and have to hide their abilities—not always easy when you have a rebellious fourth grader with super speed. Focusing wholly on human characters, The Incredibles is fairly unique on this list, and has parallels to classic superhero properties like Fantastic Four and others. Unlike many cartoons, the villains are not above using deadly force, and there's a level of threat and peril that many other animated films avoid. Witty, fun, action-packed, and sharply satirical, it deals with everything from existential dread to dysfunctional family dynamics and even impotence.
4. Inside Out
Sure, it just won the Best Animated Feature Oscar a few weeks ago, but Pixar's latest, Inside Out, has already becomes something of a modern classic. Set primarily inside the head of a young girl named Riley, it follows the adventures of the personified emotions that run things and try to keep her the happy kid that she is, even as she's uprooted and her family moves from Minnesota to San Francisco. In addition to being gorgeous—you should expect nothing less from a Pixar joint—this is an ingenious, moving story about the pain of growing up and the struggle to handle big, new emotions. Framed as a journey where Joy and Sadness need to get back to the central headquarters, Inside Out is a deceptively complex meditation on coming of age and the multifaceted interplay of our emotions.
3. Toy Story 3
It's rare that a sequel outshines the original, and even rarer still when the third film in a franchise is the best, but that may very well the case with Toy Story 3. It took more than a decade to get from Toy Story 2 to Toy Story 3, but it was worth all of the time Pixar took to get it right. Not only was it a huge financial windfall, earning north of $1 billion, and a critical darling, but it's one of the greatest animated films of all time. It is a rousingly funny, deeply touching, cleverly drawn story of growing up and moving on, friendship, and so much more. There's always debate about whether or not the best picture actually won an Oscar, but in this case, the Academy most certainly got it right.
2. Spirited Away
Though this list, and animation as a whole these days (with a few notable exceptions), is dominated by 3D animation, legendary Japanese filmmaker Hayao Miyazaki took home the second Academy Award for Best Animated feature with perhaps his best, most beloved movie, Spirited Away, which just so happens to be traditionally 2D animated. The story follows a sullen ten-year-old girl who, as her family moves to a new house in a new town, wanders into a realm populated by witches and gods and spirits, where people transform into animals. Like Inside Out, it's a coming of age story, but it also explores themes of the impact of capitalism on society, assigning value to everything, environmental corruption, and more at the same time as it is a personal, moving, magical, enchanting narrative rendered in hauntingly gorgeous images.
1. WALL-E
I can watch the first half of Pixar's WALL-E any time, anywhere, on an endless loop. As great and unique as every film on this list is, this is unlike anything you'll encounter elsewhere. Virtually silent, stunningly gorgeous, it's also heartbreaking, harrowing, and moving, which is, again, doubly impressive as the main character is a robot that never says a word. Quiet and subtle, things obviously take a turn for the adventurous when he follows EVE to the last remnants of humanity on the ship Axiom. Full of unique, understated world building, characters as deep and human as any actual human characters, and enormous stakes, WALL-E is not just one of the greatest animated movies ever, it's one of the best movies, period.