Every Movie Leonardo DiCaprio Has Died In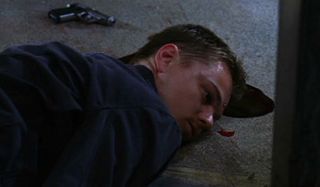 Leonardo DiCaprio has long earned a reputation for being extremely picky when it comes to starring in feature films. Since 1991 – when he made his big screen debut in Critters 3 - the acclaimed actor has actually only starred in 36 movies – averaging putting out three movies every two years. Of course, the variety of performances has been what has let DiCaprio stand out in Hollywood, but it turns out that there is one particular plot element that appears in a lot of his projects. To put it bluntly: he dies a lot.
The folks over at Voactiv have performed a fun bit of statistical analysis regarding actors and frequency of on-screen deaths, and one of their most surprising findings is that Leonardo DiCaprio actually dies in a full quarter of the movies that he stars in (which is to say nine out of the aforementioned 36). Believe it or not, this is a higher rate than even Sean Bean.
With these numbers coming to light in fun fashion, we figured that we would take the opportunity to look back at Leo's long career of on-screen death. It's a legacy that stretches back decades and began with….
SPOILER WARNING! This may seem obvious, but there are spoilers for nine Leonardo DiCaprio movies on the following pages. Browse at your own risk!
The Quick and the Dead
Leo's Character: In this Sam Raimi-directed western, Leonardo DiCaprio played Fee "The Kid" Herod, a brash young kid who makes the decision to enter a gunfighting contest in the hope that he can impress the town's ruthless leader, John Herod (Gene Hackman) – who he also believes is his father.
How He Dies In order to win Herod's respect, The Kid challenges him to a gun duel. While the diminutive gunslinger manages to get his father in the neck, Herod's shot hits straight on, and The Kid does with a bullet in his chest.
Total Eclipse
Leo's Character: In this period piece, Leonardo DiCaprio plays the French poet Arthur Rimbaud, and the film chronicles his relationship with his contemporary Paul Verlaine (played by David Thewlis).
How He DiesRimbaud's real story, as portrayed in Total Eclipse has quite the tragic end. In the movie, his relationship with Paul Verlaine falls apart, leading him to renounce literature. He winds up traveling the world, but discovers that he has cancer in his knee. Returning to France, his leg is amputated, but the disease is unabated, winds up spreading, and inevitably kills him.
Romeo + Juliet
Leo's Character: In Baz Luhrmann's shiny big screen adaptation of William Shakespeare's most famous romance, Leonardo DiCaprio naturally played Romeo Montague, the star-crossed lover who is prevented from being with the woman he loves, Juliet (Claire Danes) due to family politics.
How He Dies Allow me to take the place of your eighth grade teacher – or at least your SparkNotes: Juliet drinks a potion that allows her to fake her death, but the "fake" part is unbeknownst to Romeo. Not wanting to live without the love of his life, he opts to poison himself while lying next to what he thinks is Juliet's dead body. She wakes just as he drinks, leaving her utterly heartbroken as he passes – so she grabs a gun and shoots herself in the head.
Titanic
Leo's Character: In James Cameron's 1997 blockbuster, Leonardo DiCaprio starred as Jack Dawson, a poor artist who wins his way on to the Titanic after winning tickets in a poker game. Of course, if he knew the fate of the ship, he may not have decided to board.
How He Dies With no lifeboats left on the ship, Jack and Rose (Kate Winslet) are left on the Titanic as it splits in half and begins sinking into the frozen ocean water. Eventually, Rose gets on to a piece of floating wooden panel, but it's determined that the debis isn't buyoant enough to support the weight of both of them. Left in the water, Jack succumbs to hypothermia and winds up sinking to the ocean depths.
The Departed
Leo's Character: Having spent half his life on the rougher side of Boston, Leonardo DiCaprio's Billy Costigan is assigned to go undercover in the city's most powerful crime syndicate – all while competing against a mole in the police department
How He Dies DiCaprio was able to survive three Martin Scorsese movies before this one , but The Departed didn't leave him so lucky. At the end of the film, Billy is finally about to arrest the rat fink Colin Sullivan (Matt Damon), and even has him at gun point on the top of a roof – but it all goes wrong when it's revealed that mobster Frank Costello (Jack Nicholson) had more than one spy in the BPD. Ipso facto, Billy winds up with a bullet in the brain courtesy of James Badge Dale's Trooper Barrigan.
Blood Diamond
Leo's Character: Set during the Sierra Leone Civil War, Blood Diamond starred Leonardo DiCaprio as Danny Archer, a gunrunner from Rhodesia who hopes to recover a rare pink diamond that would allow him to leave the continent.
How He Dies Archer meets his maker when he catches a bullet during a firefight, but he does at the very least end his story on a positive note. He not only stops an ally (Djimon Hounsou) from being killed, but also gives him the rare diamond so that he can help his family. It's one of Leo's more dignified deaths on screen – especially compared to his next one…
J. Edgar
Leo's Character: In an example of Leonardo DiCaprio really shooting for Oscar gold, Clint Eastwood's J. Edgar had the acclaimed actor starring as the eponymous figure and portray him through multiple chapters of his life – including old age.
How He Dies As an old man, J. Edgar Hoover returns home one night, clearly very weak, and turns in for bed. His lover, Clyde Tolson (Armie Hammer), is eventually called by Hoover's housekeeper, and Tolson discovers the dead Hoover on the floor shirtless next to his bed. It was eventually determined that the cause of death was heart disease.
Django Unchained
Leo's Character: Giving one of his most off-putting and yet charismatic performances, Leonardo DiCaprio played Calvin Candie in Quentin Tarantino's Django Unchained - and he is the central antagonist for much of the film. He is an incredibly wealthy and disgustingly racist plantation owner who has a target on his back thanks to the fact that he owns Broomhilda (Kerry Washington), the wife of the titular Django (Jamie Foxx).
How He Dies Calvin winds up getting the upper hand on both Django and Dr. King Schultz (Christoph Waltz) when he uncovers their plan to try and steal Broomhilda away – but he gets just a bit too cocky. He refuses to let Schultz and Django leave without shaking his hand, but this is just too much for Schultz to abide, and he winds up shooting Calvin in the chest.
The Great Gatsby
Leo's Character: Baz Luhrmann's take on F. Scott Fitzgerald's greatest novel finds Leonardo DiCaprio starring as the wealthy socialite Jay Gatsby – who is the most popular man on Long Island. He throws lavish parties and has an incredible legend that precedes him - though the truth is that Gatsby is not all he seems.
How He Dies After carrying on an affair with Daisy Buchanan (Carey Mulligan), the love of his life, Gatsby meets his end due to some foul trickery. Tom Buchanan (Joel Edgerton), Daisy's husband, tells George Wilson (Jason Clarke) that Gatsby is sleeping with his wife – despite the fact that it is actually Tom who is sleeping with her. This leaves Tom to drive over to Gatsby's house, and while the millionaire is exiting a swimming pool, George shoots him in the back and through the heart.
NJ native who calls LA home; lives in a Dreamatorium. A decade-plus CinemaBlend veteran; endlessly enthusiastic about the career he's dreamt of since seventh grade.
Your Daily Blend of Entertainment News
Thank you for signing up to CinemaBlend. You will receive a verification email shortly.
There was a problem. Please refresh the page and try again.