Exclusive Behind-The-Scenes Look At Cheri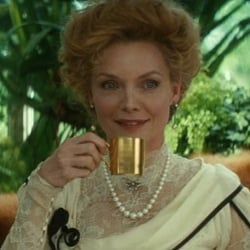 There's one kind of escapism available in movie theaters this weekend, the kind involving giant robots and explosions. But for something a little more elegant, a little more intricate, and even a little sexier, there's also Cheri, a new drama from The Queen director Stephen Frears that stars Michelle Pfeiffer as a turn-of-the-century French courtesan who starts a scandal-making relationship with a much younger man.
The film, set in France's Belle Epoque, is gorgeous to look at not just because of the ridiculously attractive cast (relative newcomer Rupert Friend is close competition with Pfeiffer for the beauty prize), but also the sumptuous costumes and production design. To give you an idea of all that went into recreating the world of Colette's novel Cheri, which has been dutifully adapted for the screen, we've got an exclusive behind-the-scenes featurette about the making of the film. Michelle Pfeiffer talks about the enduring pain of wearing corsets, Kathy Bates explains how costumes build the character, and production designer Alain McDonald talks about his choice of color palettes for each of the main characters.
Check out the featurette below, and visit the movie's official site to learn more about this different kind of summer fare< Cheri opens in select theaters in over 20 theaters this Friday.BR>
Staff Writer at CinemaBlend
Your Daily Blend of Entertainment News
Thank you for signing up to CinemaBlend. You will receive a verification email shortly.
There was a problem. Please refresh the page and try again.