Exclusive: Gemma Arterton Predicts A Smaller Role In Clash Of The Titans 2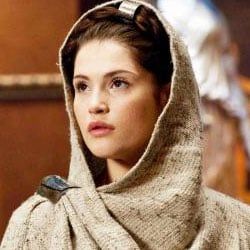 We've seen Gemma Arterton in two big budget productions this year alone, Clash of the Titans and Prince of Persia, and though neither represent what she's capable of as an actress, she'll be back for more. During a chat about her upcoming film, The Disappearance of Alice Creed, Arterton revealed that her role in Clash 2 is likely to be small, and even admitted which of the two blockbusters she liked better.
She confirmed that she'll appear in the Clash sequel, but didn't really sound all that enthusiastic about either the movie itself or her contractually obligated role in it:
Acknowledging that Clash was drubbed by critics even though it was a hit, Arterton said, "To be honest, I just don't know what is going on in the film industry. I was talking to a director yesterday who I love and he always makes brilliant films and he goes, 'Oh, I struggle to make my films.' I'm like, 'How? Your films are amazing! How?'" She continued, "How can something like 'x' get made and get so much money put into it and they don't even know what the script is sometimes and they're like, 'Oh yeah, we'll put up $200 million for that movie.'" Then she threw Prince of Persia into the mix, "My friend was saying, 'I think Prince of Persia was better than Clash of the Titans,' and I said, 'Yeah, I agree.' And they said, 'But it wasn't as big a success,' and I said, 'Yeah, I honestly don't know why.'"
She was even willing to criticize 3D, the technology that both helped Clash make so much money and earned mocking from nearly everyone who saw it: "The boost in the ticket price, but also the fact that you can't record it. So a lot of people had to go to the cinema to see it. That's why they're all doing it, I think honestly, not because it's the future of filmmaking."
Arterton certainly has a handle on this industry and the acting to chops to make use of it. If you've only seen Clash and Prince, please make an extra effort to hit the theater on August 6th to catch her in The Disappearance of Alice Creed. Sans grandiose effects and costumes, she really shines on screen. Plus, check back next week for my full conversation with Arterton during which she talks about working with such tense material and provides a little preview of what she's got coming up, other than Clash 2.
Your Daily Blend of Entertainment News
Staff Writer for CinemaBlend.