Exclusive: Nikki Reed Talks The Twilight Saga: Breaking Dawn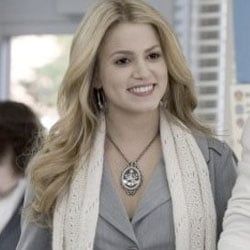 Now that Eclipse has come and gone, there will be no escaping Breaking Dawn talk for the cast of The Twilight Saga. I got the chance to chat with Nikki Reed about her upcoming non-vampire release, Last Day of Summer in which she stars alongside her good pal DJ Qualls, and Reed took the time to answer some of my questions about the next two installments, even though she doesn't know too much herself.
The final book in Stephenie Meyer's series, Breaking Dawn, is divided into three sections, however, the film version will be delivered in two. Will Breaking Dawn be broken up according to one of the splits in the book? Reed will find out eventually, but for right now she explained, "They haven't told us yet. We haven't even received the scripts." Odds are they'll be getting those scripts very soon because Reed said shooting will begin in about eight weeks and both films will be shot back-to-back.
Spoiler alert for those who haven't read the books …
Now for a prime concern that may come up in the first film, the birth of Bella's half-vampire baby. I've never read the book, but apparently the scene is pretty striking. Having not yet seen the script, Reed didn't know exactly how the big moment would be handled but did say, "It's certainly very graphic the way that it's written. We clearly know what our ratings are going to be in these movies; they're not going to be rated R films, so they're going to have to just keep it tame."
End Spoiler Alert
That duty will fall to the direct of the final two films, Bill Condon. Reed is still enraptured by her fantastic experience working with Eclipse director David Slade, but has high hopes for working with Condon thanks to the fantastic things she's heard about him. "I actually haven't met him yet, but I'm a big fan of his work and I heard from everybody that he's such a sweet, kind man," she said. "That's always a nice enlivenment to work in, so I'm excited about that."
That's all from Reed on the Breaking Dawn front, but keep an eye out for my full chat with her packed with tons of information on Last Day of Summer, the new music she directed and more.
Your Daily Blend of Entertainment News
Staff Writer for CinemaBlend.
Your Daily Blend of Entertainment News
Thank you for signing up to CinemaBlend. You will receive a verification email shortly.
There was a problem. Please refresh the page and try again.