A Famed Hollywood Writer Just Slammed Robert Downey Jr. And Mark Ruffalo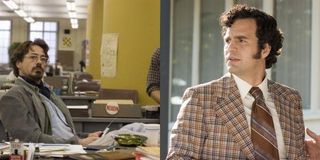 Robert Downey Jr. and Mark Ruffalo's acting prowess has been criticized by crime writer, James Ellroy - but fans of The Avengers need not worry about the author slamming their favorite superhero movie. Instead the writer actually takes issue with their performances in David Fincher's 2007 crime drama, Zodiac. As it turns out, Ellroy really hated the lead actors in that film
Ruffalo and Downey Jr. played Inspector Dave Toschi and Paul Avery, respectively, in the delightfully meandering-yet-engrossing examination of the crimes of the Zodiac killer. And while James Ellroy has greatly supported the film in the past, having provided a commentary track on the DVD release and called it "one of the half-dozen greatest American crime films," it turns out that he really didn't care for the performances by Ruffalo, Downey Jr., or Jake Gyllenhaal (who played puzzle-loving cartoonist Robert Graysmith). Recently doing an interview with NPR, the L.A. Confidential author said,
Zodiac was deemed a disappointment when it was released because from a budget of $65 million it only went on to gross $84.7 million. But it was critically lavished with praise, and it is still to this day regarded as arguably David Fincher's most complete work (an opinion that this writer well and truly advocates). Not only is David Fincher at his most meticulous, but its gargantuan running time of 157 minutes is so perfectly paced and edited that it passes by in a breeze. Harris Savides' sumptuous cinematography, David Shire's music and the perfect casting all combine delightfully too to create an engrossing tapestry of plot and characterization, which also manages to also provide a definitive account of the Zodiac killer's atrocities. But evidently Ellroy doesn't agree with me on all of those points.
Could James Ellroy be right in his assertion that Gyllenhaal, Ruffalo, and Downey Jr are unconvincing in the film, though? Perhaps. Each of their characters become thoroughly miserable and ruin their lives because of their fascination with the killer's identity. In fact, it is only Fincher's directing that stops the film from being entirely overwhelmed by their borderline psychotic pursuits. But there could be another reason why James Ellroy picked up a miserable vibe from Jake Gyllenhaal, Mark Ruffalo and Robert Downey Jr in Zodiac. Both Gyllenhaal and Downey Jr. have admitted that they grew weary of Fincher's meticulous directing style, which meant that he would often shoot 70 takes for even the most simplest of scenes. Downey Jr even joked, "I think I'm a perfect person to work for him, because I understand gulags." Still, it worked, because even though their performances are miserable, they still helped to make Zodiac a modern classic.
Your Daily Blend of Entertainment News
Thank you for signing up to CinemaBlend. You will receive a verification email shortly.
There was a problem. Please refresh the page and try again.