Fantastic Four 3 Will Rise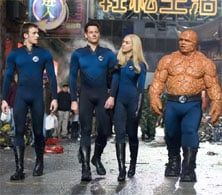 Fantastic Four: Rise of the Silver Surfer had a solid but not spectacular box office performance, and even though critics savaged it audiences still seem to like it. Moviehole says Fox is going to give the four another shot. Fantastic Four 3 has been greenlit, but MH's sources tell them that the movie hinges on who they can team the Four up with. Apparently they liked the dynamic between them and Surfer, and don't want to do another movie without some similar character to replace him.
As someone whose really enjoyed both movies, that's kind of a bummer. I liked Silver Surfer, but I don't think the Four need him in order to be successful again. It seems to me that Fox is vastly overrating his importance. I think most of the people who showed up for the sequel were there because they enjoyed the first one and wanted more of it. Not because of the shiny dude on the surfboard that Fox was intent on shoving down their throats with their marketing campaign.
Besides, how do they replace Surfer? They can't use him again, can they? Word is that he's on his way to a spinoff into his own franchise. None of the other members Fantastic Four's gallery of allies and bad guys is nearly as interesting as the ones they've already covered. We're there to see the Four anyway, not whoever it is the studio inserts into the movie to capture some specific demographic.
Your Daily Blend of Entertainment News