Far From The Madding Crowd With Carey Mulligan Goes Into Production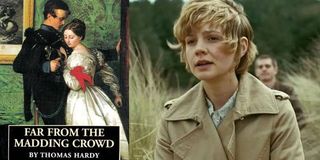 Today Fox Searchlight Pictures begins production on their ambitious adaptation of Thomas Hardy's classic 1874 novel Far From the Madding Crowd. The English author's tale centers on a headstrong and beautiful young woman named Bathsheba Everdene, who realizes her life's happiness depends very much on who she chooses to marry. Her suitors each come from different backgrounds. Gabrielle Oak is a sweet-hearted sheep farmer who is drawn in by her independent spirit. Frank Troy is a sexy, dashing and impulsive Sergeant, who promises passion. Lastly, William Boldwood is a wealthy, but older gentleman, who could offer her luxury at least.
Carey Mulligan, who was first considered for the role last fall, will play the feisty and fickle heroine Bathsheba. Belgian actor Matthias Schoenaerts, who recently co-starred with Marion Cotillard in the acclaimed romantic drama Rust and Bone, will play her shepherd Oak. English newcomer Tom Sturridge (On the Road) will be her Sergeant Troy, having won the role over Stoker star Matthew Goode. Welsh star Michael Sheen, who is best known for biopics like Frost/Nixon and vampire tales like Underworld and the Twilight series, will portray the December to her May as Boldwood. Also among the cast is rising starlet Juno Temple (The Dark Knight Rises) in an undisclosed role.
As Bathsheba flirts with the idea of a life with each of these suitors, the story explores the nature of passion and love, while revealing mankind's ability to overcome hardship through resilience and perseverance. To adapt this romance-fueled drama, Fox Searchlight in conjunction with BBC Films and DNA Films hired screenwriter David Nicholls, who wrote the romance novel One Day then translated it into a script for the 2011 Lone Sherfig adaptation of the same name. Andrew Macdonald, who produced the 2010 Mulligan-fronted drama Never Let Me Go, proclaims in the press release, "David Nicholls' script beautifully captures the heart of Hardy's original."
Helming this promising adaptation is Dogme 95 co-founder Thomas Vinterberg. The Danish filmmaker best known for the groundbreaking drama The Celebration is an intriguing choice for this complex tale of human emotion. While his works have never become mainstream Stateside, his reputation for encouraging naturalistic performances that are deeply engaging make him an excellent choice for this endeavor. BBC producer Christine Langan adds, "David Nicholls' smart and compelling reworking of Hardy's classic has found its ideal counterpart in the hugely talented Thomas Vinterberg. The incomparable Carey Mulligan - the perfect Bathsheba - sits at the heart of a mouth-watering cast who will do justice to this rich and irresistible tale."
Far From the Madding Crowd is now in production, and will shoot on location in Dorset, Oxfordshire, Buckinghamshire and London. It's expected the drama will open in 2014. In the meantime, check out the trailer for the 1967 adaptation starring Julie Christie, Peter Finch, Alan Bates, and Terence Stamp.
Your Daily Blend of Entertainment News
Staff writer at CinemaBlend.