Are The Farrelly Brothers Breaking Up?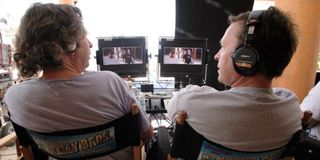 Bobby and Peter Farrelly have been joined at the hip since 1994 — cinematically speaking, of course. Their first film together was with Jim Carrey and Jeff Daniels in Dumb and Dumber, and they've since gone on to direct eleven feature films together. But is it finally time for them to cut the chord and set out to make waves on their own?
We wonder, because Bobby has signed on to direct his first movie without his big brother. As reported by The Wrap, he will helm a comedy called One Night Stan, which was something that both brothers were originally attached to. Though, Peter is at least working on it as an executive producer. The story is also very Farrelly Brothers-esque: Stan, known for his one-night stands, finally considers settling down when he falls in love with a woman named Amy, but she too "has her own ideas about relationships."
According to a statement from Bobby, he's really excited about the script and thinks casting will be a lot of fun, but does this have implications for the future of the Farrelly Brothers' directing work? It's still unclear why Peter -- who was said to also be attached as a director -- decided to pass up his duties in favor of a producing credit. While this will mark Bobby's first time on his own, Peter did direct parts of that god-awful Movie 43 before reteaming with his bro for Dumb and Dumber To. So perhaps this is just a one-off for Bobby, and the pair will think of something great to work on together farther down the road.
The sequel to their first movie ever did pretty well at the box office, despite that horrible prequel, Dumb and Dumberer, that preceded it (and included neither the Farrelly Brothers nor the original cast). After all the years together making Kingpin, There's Something About Mary, Me, Myself & Irene, Osmosis Jones, Shallow Hal, Stuck On You, Fever Pitch, the remake of The Heartbreak Kid, Hall Pass and that Three Stooges movie that was pretty bad, we'd be hard-pressed to see this streak end, despite its long run.
Both brothers recently appeared on EW's new web series Lightbulb, and in the midst of the conversation they revealed some of their secrets to getting the laughs out of audiences. However, based on their comments about fighting for which lines are best for which story, their mojo seems to stem from their collaborative environment. While Bobby will have Peter to some extent on One Night Stan, it'll be mostly be him fighting to maintain his vision. All things have to come to an end at some point, so perhaps it's a good thing that Bobby is now starting to create a life separate from Peter. As his big brother told EW, "If you're not scared, you're not inspired."
Your Daily Blend of Entertainment News
Thank you for signing up to CinemaBlend. You will receive a verification email shortly.
There was a problem. Please refresh the page and try again.