Fast And The Furious 4 Plot Details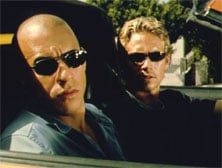 The second we heard that both Vin Diesel and Paul Walker would be back for the fourth Fast and the Furious film, interest in it went through the roof. Car nuts everywhere are hungry for more Fast and Furious, mostly just for the cars, but is there a chance the movie could also be good?
Moviehole has managed to obtain some plot details for Fast and the Furious 4, and they sound pretty happy with what they've read.
Like the other movies, the fourth film is about illegal street racing. The movie starts out with Diesel's "Dom" character racing for a guy named "Braga" in Mexico. Paul Walker's "Brian" character pursues him there and makes some sort of deal with teams him back up with Dom. In addition to "Braga", new characters include a hot, female racer named Gisele who works for the bad guys, a rogue named "Fenix", and a smart-ass type named "Dwight". I wonder if his last name is Schrute.
They say the story revolves around Brian and Dom undercover helping criminals transport some sort of illegal goods. Basically, it sounds like they're racing to escape the Feds with this street gang, rather than racing in underground competitions. If you've kept up with the series, then you know that sounds a lot like the plot of Fast and the Furious 2. While the first and third movies focused on the underground racing scene, the second movie was almost a straight cops versus street racers movie. This sounds like it's more in that vein. Except what made the second movie work was Tyrese, who stole the film right out from under Paul Walker. Tyrese won't be in this one, but with Diesel back, hopefully he can carry the character load while Walker does his traditional blank stare at the camera.
Your Daily Blend of Entertainment News
Thank you for signing up to CinemaBlend. You will receive a verification email shortly.
There was a problem. Please refresh the page and try again.