The Fear Monger: Cabin Fever Gets A Remake, Sinister 2 Gets A Director, And Wolves Fight Mutants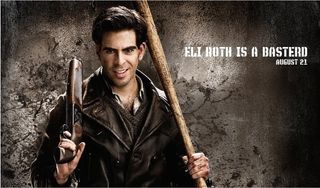 Good day, voyeurs of all things salaciously gelatinous. Go back into the 1970s this weekend and celebrate both Record Store Day on April 19 and stoner holiday 4/20 on, well, that day. Death Waltz Recording will be releasing limited 7" splits of the themes for The Twilight Zone and The Outer Limits on one vinyl, and the themes for Alfred Hitchcock Presents and The Munsters on another. And though the stoner horror sub-genre is pretty weak – Evil Bong! – there's always The Cabin in the Woods.
And now for a few quick tidbits. Christopher Landon's dismal-sounding Scouts vs. Zombies suddenly became more legitimate with the casting of comedian and Cheap Thrills star David Koechner as the troop leader. Scream Factory is putting out separate special edition Blu-rays for Pumpkinhead and Pumpkinhead II: Bloodwings, while quality control specialists Criterion are bringing David Cronenberg's classic Scanners to Blu-ray on July 15th, which will include a new documentary, Cronenberg's first feature Stereo and more. And last but not littlest – it's actually the littlest – the upcoming Leprechaun: Origins reboot released the golden first teaser poster for the film.
And now, this week's column!
Cabin Fever Remake is Reportedly Happening, Seriously
Like Bloody Mary or Beetlejuice, I feel like all it takes these days is just three utterances of the word "remake" in order for a new one to pop up somewhere on the cinematic landscape. One of the latest films to get the arguably unnecessary update is Eli Roth's 2002 gross-out horror comedy Cabin Fever, which BloodyDisgusting reports is in the cards thanks to Indomina Releasing. Evolution Entertainment, best known for the first three Saw films and James Wan's thrillers Dead Silence and Death Sentence, is on board to produce with Cassian Elwes (Ain't Them Bodies Saints) and Zombeavers producer Evan Astrowsky, who was also there for Roth's original film.
It's a strange and mildly stupid move, since RLJ/Image Entertainment is releasing the prequel Cabin Fever: Patient Zero in June. Indomina was originally set to develop a second sequel (and fourth film in the franchise) with Cabin Fever: Outbreak, but they decided to kill that idea and instead want to just do the whole thing all over again. The first film combined an infection-based cabin horror with dark comedy, and poured a bunch of gore on top of everything. It wasn't the greatest movie, so I guess it could be improved upon, but for now I'm much more interested in seeing Roth's upcoming cannibal catastrophe The Green Inferno. Does the Patient Zero trailer below make a remake more justified?
Catfish and Paranormal Activity 3 & 4 Directors Go Viral with Outbreak Thriller
Filmmakers Henry Joost and Ariel Schulman created a phenomenon with the thrilling Internet relationship doc Catfish, capitalizing on its success by making Paranormal Activity 3, the best in the series, and Paranormal Activity 4, the worst in the series. Regardless of how one feels about any of those movies, the duo are definitely interesting filmmakers, which adds a much-needed spark to the project Viral, which has been going around for the past couple of years under the name Peste and was last attached to House at the End of the Street director Mark Tonderai.
The Black List script, written by Barbara Marshall and Christopher Landon (Paranormal Activity: The Marked Ones), centers on a video documentary a teenager girl is making for a school project, not long after she experienced a terrible family tragedy. A viral outbreak runs through her small town, turning everyone she knows into murderous beasts, and leaving the girl and her family trapped inside their home, which of course leads to depressing events once someone in the home gets the virus. Given we've already talked about a movie that featured people trapped inside a place while sickness spread, Joost and Schulman are going to have to work pretty hard to turn Viral into something that plagues audiences with terror instead of headaches.
The Quiet Ones Conjures up a Fresh Trailer
Even though this third trailer for John Pogue's paranormal thriller The Quiet Ones is only a minute long, it manages to give audiences more new footage than we've seen since the first trailer came out. I get that the gimmick – a university professor (Jared Harris) and his students perform an experiment with a goal of inducing a poltergeist – has to be explained each time so that it retains that sliver of originality in a world full of supernatural flicks, but we've been seeing the same scenes and set up for ages. Now we get a healthy chunk of new imagery, along with a young girl reciting a nursery rhyme.
The experiment's subject is a mysterious girl named Jane Harper, played with the expressive face of Bates Motel highlight Olivia Cooke, and she is hiding a secret of some kind that looks like it wants to eat her alive from the inside. Or maybe she's just possessed naturally, as women are wont to be. (Zing!) Never have I referred to a ghostly presence as "painting darkening," but this trailer has one, and I can't wait to see what other kinds of insanity it has in store for Sam Claflin and Laurie Calvert. For those who thought last week's Oculus was a confusing bore, April 25 is when The Quiet Ones will be quiet no more. Will this be the best "screaming at a baby doll" scene in film history? We shall see.
Sinister 2 Finds Its Director
Irish filmmaker Ciaran Foy's 2012 ruthless teenager creepshow Citadel could have been better, but it was about as solid a feature debut that an indie director could hope for. Foy's screenplay was inferior to his moody direction, so it's intriguing Blumhouse Productions and eOne have hired Foy to take on Sinister 2, the sequel to Scott Derrickson's slow-burner, with Ethan Hawke's curiosity over a set of 8mm home movies getting the better of his sanity. One of Blumhouse's more frightening releases, it seemed like the one that could remain a singular entry, but the story and ending were left open enough and it only took five months to get the sequel greenlit.
For Sinister 2, Foy will direct from a screenplay written by Sinister writers Derrickson and C. Robert Cargill. The plot is still being kept quiet for the moment, but producer Jason Blum told Shock Til You Drop last month that fans who loved the first film's tone will love this one, and that "it's got a lot of new stuff in it." It's always the specific details with this guy. The plan is to go into production this summer, so expect to hear some casting news soon. Let's all welcome Foy to Hollywood by watching the Citadel trailer below.
Wolves Face Mutated Humans in Largely Wordless Yellowstone Falls
Horrors will probably always be my favorite kinds of movies, but it's impossible to deny just how derivative the genre can be. For instance, none of the movies we've gone over in this week's column can be described as "startlingly original," but that's where Yellowstone Falls comes in and totally mangles the competition. Day Snyder, who recently penned a Bermuda Triangle script for Warner Bros., sold his Yellowstone Falls spec script in a bidding war that ended with QED on top, offering a high six-figure number according to Deadline.
So what makes it unique? First, the screenplay is only 52 pages, as there is very little (if any) actual dialogue. Like "Bears meets Return of the Living Dead," this thriller takes place after some kind of apocalyptic disaster that destroys almost all of the population, with the only survivors mutated and hungry. The story actually centers on a mother wolf, separated from her mate and the rest of her pack, who has to defend her cubs from the impending mayhem. This is a fantastic spin on the quasi-zombie movie, and the promise of a movie without dumbass characters in peril is almost too good to be true. Add in some wolf gore and I'm floating on cloud nine. Why fuck with werewolves when you can just have wolves?
Your Daily Blend of Entertainment News
Assistant Managing Editor
Nick is a Cajun Country native, and is often asked why he doesn't sound like that's the case. His love for his wife and daughters is almost equaled by his love of gasp-for-breath laughter and gasp-for-breath horror. A lifetime spent in the vicinity of a television screen led to his current dream job, as well as his knowledge of too many TV themes and ad jingles.