Fifty Shades Of Grey Set Photo Teases The Start Of Production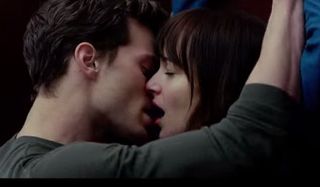 Fifty Shades of Grey has officially begun production! Series author E.L. James Instagrammed the above photo, which shows the clapboard for the film's first take. In addition to including director Sam Taylor-Johnson's name, the clapboard reveals that they're shooting Scene 25, whatever that is. For those eagerly awaiting the feature adaptation of the steamy novel, start of production is good news, especially considering it was delayed due to casting and script issues.
As we learned late in October, following the exit of Charlie Hunnam, who was originally set to play Christian Grey in the film, the movie's production was pushed off to this week to give newly cast Jamie Dornan time to prepare for his role as the male lead. Dornan will star opposite Dakota Johnson, playing Christian Grey, the wealthy but tormented billionaire who falls for Johnson's virginal post-grad character Anastasia Steele. James' trilogy of novels focus on Christian and Ana's steamy romance, which quickly evolves to S&M levels, as Christian introduces Ana to the world of rough sex. The delay in production was also reportedly set to allow more time to polish the script before shooting.
Since The Fall's Jamie Dornan signed on to take over the role of Christian Grey, we've seen a bit more casting news trickle in, including Max Martini, who will play Christian's bodyguard, Eloise Mumford, who's been tapped to play Ana's best friend Kate and love interest to Christian's brother Elliot, played by Luke Grimes. And finally, Victor Rasuk, who boarded the project to play the "Jacob" of the story, Jose.
In addition to rounding out the cast, the interim between Dornan's casting and the start of production also gave us our first look at the story's two stars together. That came in the form of a photo shoot for Entertainment Weekly.
With Fifty Shades officially starting production, hopefully Universal and Focus will be willing to share a production still or two from the actual movie at some point in the near future. Given that the movie's release date has been pushed off from August 2014 to February 13, 2015, they'll probably want to pace themselves in terms of sharing promotional content for the movie between now and then. However, fans are likely to be eager to start seeing their first official glimpses of the movie. In the meantime, at the very least, they can rest assured that production has commenced.
Among the other recent updates on the film, read what producer Dana Brunetti had to say about casting the leads and the movie's rating here.