First 127 Hours Clip Lets James Franco Play The Flirt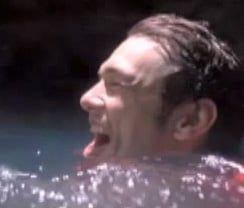 In director Danny Boyle's latest movie with a number in the title, James Franco stars in the real life story of an outdoorsman trapped between a rock and a hard place (literally), forced to make difficult choices as he struggles for survival. But before he ends up stuck in 127 Hours' crevasse, Franco gets to flirt with pretty girls (Amber Tamblyn and Kate Mara) and swim in one of the most beautiful underground lakes you'll ever see.
That's what's in video embedded below. It's the first ever clip from 127 Hours. In it we see Franco as Aaron Rolston shortly before the accident which becomes the centerpiece of Boyle's film. Watch:
Anyone else get the distinct impression that this whole "thrilling drop into an underground lake" thing was really all just some sort of an elaborate plot to lure these two girls into a ménage? No? Maybe it's just me. Knowing what Ralston's about to go through, you can't help hoping the guy pulled it off. One last hurrah before enduring his own personal hell.
127 Hours bows to a select group at the Toronto Film Festival this week. Cinema Blend's own Katey Rich is on the ground there in Canada and has promised an in depth look at the film on Thursday. Keep checking our TIFF coverage here for the latest on Boyle's latest.
Your Daily Blend of Entertainment News