First Burlesque Clip Shows Off Christina Aguilera's Pipes, Not Much Else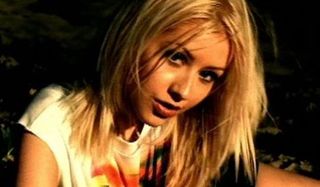 The first trailer for Burlesque that came online last week showcased more rhinestones, glitter and fancy choreography than you've seen since Moulin Rouge! Clearly that's the major appeal of the film, for either musical queens who can't get enough showmanship or Christina Aguilera fans dying to see her stretch. So why is the first clip from the film basically just an old Christina Aguilera music video without all the oiled-up dancers?
The clip debuted at Moviefone, and you can watch it below. Feel free to fast forward, since what you see at the end is the same as what's at the beginning: Xtina belting an old soul classic in an abandoned bar, looking for all the world like Dorothy wishing she could travel somewhere over the rainbow. My guess is this is the scene from early in the film where we realized this is a girl with talent, and from there we root for her on her journey to wild LA, where she gets caught up in a burlesque club run by Cher and Stanley Tucci, of all people.
Burlesque looks like it could have the potential to be a camp masterpiece, but this clip doesn't support that theory at all. Check out Christina and her vocal skills below, and try not to fall asleep.
Your Daily Blend of Entertainment News
Staff Writer at CinemaBlend