The First Day Of Filming On Indy 4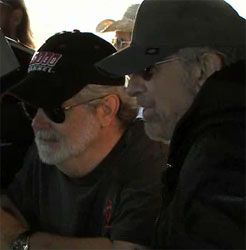 Last week filming started on Indiana Jones 4 and the hype machine began. So far we've seen an image of an older Indy (although he still looks damn cool) and a video from co-star Shia LeBeouf reminiscing about the bond the Indy movies gave him with his father. But they do actually shoot footage once filming begins, right?
Well, this week's treat is a quick montage of the start of the shoot, including footage of director Steven Spielberg and executive producer George Lucas. Thanks to this brief Quicktime video we get to share in part of Spielberg's opening toast, see some of the filming that's gone on, and even watch the two aging filmmakers tool around in a classic car. It's a far too short look at the set and, even worse, it doesn't show any sign of the man with the whip.
Still, this is proof that shooting as begun for the many doubters out there, of which I was one prior to last week. It also looks like Spielberg and company are going to take advantage of the changing world and really involve viewers in the making of this movie. Could they possibly even follow Bryan Singer and Peter Jackson's lead with weekly podcasts and updates?
Take a look at the first day of shooting video at IndianaJones.com and keep your eyes peeled for more treats to come from the filmmakers.
Your Daily Blend of Entertainment News
Thank you for signing up to CinemaBlend. You will receive a verification email shortly.
There was a problem. Please refresh the page and try again.