First Look At Shutter Island Is Creepy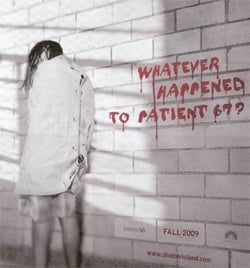 They're beginning to advertise Martin Scorsese's next picture a bit early. Shutter Island isn't scheduled to hit theaters until October 2nd, but an attentive Rope of Silicon reader noticed a teaser image for the film in the January issue of Cashiers du Cinema.
The teaser image (see right) doesn't do much to cash in on Scorsese's heritage as a filmmaker, nor his acclaimed cast which includes Mark Ruffalo, Leonardo DiCaprio, Ben Kingsley, Michelle Williams, Patricia Clark, Emily Mortimer, and Jackie Earle Haley. Instead it takes a simplistic, yet creepy approach, with a straightjacketed, unknown figure standing facing the wall, with "Whatever Happened to Patient 67?" written on the wall, presumably in blood.
The movie stars Ruffalo and DiCaprio as a pair of U.S. Marshalls in 1954 who are assigned to investigate the disappearance of a murderous patient from an insane asylum. Again, you wouldn't get any of that from the poster, but it still elicits a creepy vibe that intrigues me to learn more about the movie.
Check out the full poster over at Rope of Silicon.
Your Daily Blend of Entertainment News