Five Night At Freddy's Movie Just Hired The Perfect Director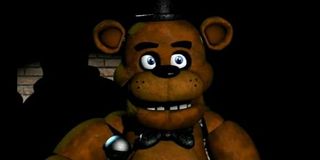 Inspiration for movies come from all areas nowadays. So, it's little surprise that Warner Bros. turned to a cell phone app for their latest effort, and the studio is bringing Five Nights At Freddy's to the big screen. In fact, they're moving full speed ahead with their cinematic version of the video game series, and it's now been confirmed that Gil Kenan will direct the live-action adaptation.
Deadline was the first to report that Gil Kenan will oversee the movie version of the app, which was originally released back in August 2014 and almost immediately became an online sensation. Not only did Five Night At Freddy's end its opening week as the top-selling game on Desura, but it soon became the subject of various Let's Play videos on YouTube videos, too.
As well as directing, Monster House's Gil Kenan is also set to write the screenplay for Five Night At Freddy's alongside Tyler Burton Smith. Roy Lee and Seth Grahame-Smith are producing, and David Katzenberg, Adam Stone, and Jay Ireland are all executive producing the picture.
Five Night At Freddy's was created by Scott Cawthon as a point-and-click survival horror video game that centers around the fictional pizza restaurant Freddy Fazbear's Pizza. The player in the game stars as a night security guard who repeatedly has to defend themself against animatronic animal characters that infiltrate the establishment. They are able to track the location of the animals through the security cameras in the restaurant.
But why are the animatronic animal characters suddenly on a murderous rampage? Well, that's because they are part of the house band at the Chuck-E-Cheese-like restaurant, and when the eatery closes they become hell-bent on killing.
The game proved to quite spooky and scary. In fact, it was heaped with praise upon its release for its unique take on the horror genre, with its simplistic design and gameplay coming in for huge acclaim thanks to how it increased the feeling of paranoia and fear. All of this means that Hollywood was soon lining up to bring Five Nights At Freddy's to the big screen. Which, when you watch the clip below, you will instantly understand why.
Gil Kenan previously shot to fame back in 2006 because of his work on Monster House. Just 30-years-old, Kenan was offered the chance to direct the animated film because of his stop-motion graduate thesis short, The Lark. After watching it, Robert Zemeckis was so impressed he hired Kenan to helm Monster House, which saw him nominated for the 2006 Academy Award for Best Animated Feature. Kenan followed Monster House with the disappointing City Of Ember in 2008, as well as 2015's Poltergeist, which, although it was met with mixed reviews, grossed an impressive $95 million.
Your Daily Blend of Entertainment News
Thank you for signing up to CinemaBlend. You will receive a verification email shortly.
There was a problem. Please refresh the page and try again.