Focus Trailer: Watch Will Smith Talk About How Much He Loves Boobs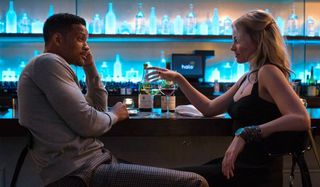 "Die for the lie." That's the secret Will Smith reveals in the brand new Focus trailer. Well, that and the fact that he sure loves women's knockers -- especially Margot Robbie's.
We haven't seen Smith actually lead a movie since After Earth, and we all know how that went. But the Focus trailer shows him bringing back that famous charm of his in this film about a con man and his lovely protege. After watching the footage, we can understand why some in the gossip-rag biz thought he was having an affair with Mrs. Wolf of Wall Street during the shoot. The two get quite steamy in a few scenes.
In Focus, Smith portrays con man Nicky, which sounds like the perfect name for a con man if you ask us. He soon takes a woman by the name of Jess (Robbie) under his wing, but the pair's romantic relationship becomes complicated and he's forced to lose the baggage.
Cut to a few years later: it's Buenos Aires and Nicky is trying to pull off a stint amidst the race car circuit. That's where Jess steps back into the game, now a full-fledged femme fatale the likes of which Jennifer Love Hewitt in Heartbreakers has never seen. By the looks of it, she's trying to distract Rodrigo Santoro (who looks far more attractive outside of his 300: Rise of an Empire duds) with her (*cough*) feminine wiles in order to steal his money. Will her presence foil Nicky's plot? Oh, most definitely.
Robbie will soon become the first actress to portray Harley Quinn in live-action on the big screen for David Ayer's Suicide Squad, which will also feature Smith. Though Quinn will likely be a lot more devious and off-the-rails psychotic than Jess, Focus will be a nice preview of Robbie's sinister skill set. We're just glad she's getting more chances to shine after The Wolf of Wall Street. She was one of the best parts of that movie -- and the sexiest. No wonder Smith is obsessed with her rack.
While the Focus trailer does well to flaunt the actress, the song played over it, "I Put a Spell On You" with Jeff Beck and Joss Stone, is the perfect sultry tune.
Focus will be in theaters come February 27, a bit too late for Valentine's Day. I guess Fifty Shades of Grey was a more romantic choice, anyway.
Your Daily Blend of Entertainment News
Thank you for signing up to CinemaBlend. You will receive a verification email shortly.
There was a problem. Please refresh the page and try again.