Forget Pumpkin Spice: Starbucks Now Serves Butterbeer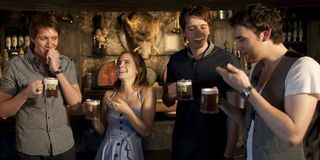 Over the years, there have plenty of delectable treats readers and movie watchers have been tempted by in the various adventures of Harry Potter, but none have so captured our imaginations as Butterbeer. For just two sickles, Harry, Ron, and Hermione could quench their thirst with a frothy tankard of the drink that's been described as tasting "a little bit like less-sickly butterscotch." Previously, you could only try this curious concoction at the Wizarding World of Harry Potter in Orlando, Florida. But for a limited time you can get a Butterbeer of your very own at the Starbucks near you. All you need is to know the magic words.
Dalebacar has drawn the non-wizarding world's attention to this special offer, but notes this is in no way an officially licensed Harry Potter beverage. However, you can see what all the Hogwarts fuss is about if you give your barista the following order:
*A Crème Frappuccino base with whole milk. (2% or skim won't give the proper consistency)
*Ask for 3 pumps of caramel syrup.
*Add 3 pumps of toffee nut syrup.
*Top with whipped cream and a drizzle of caramel.
Okay, so your barista may have no idea that this is the closest thing we know to Butterbeer outside of the Three Broomsticks. But it's a fun alternative to hot cocoa at the very least. However, toffee nut syrup is a mixer only available during the winter season, so be sure to order it before the cold weather has come and gone. And if you prefer a warm version, try this Starbucks recipe:
*Whole milk steamer
*Add Caramel syrup (2 for tall, 3 for grande, 4 for venti)
*Add Toffee nut syrup (2 for tall, 3 for grande, 4 for venti)
*Add Cinnamon Dolce syrup (2 for tall, 3 for grande, 4 for venti)
*Whipped cream and salted caramel bits on top
Optional if you prefer to add a coffee taste: Add a shot of espresso (2 for a grande or venti)
For a more adult version of Butterbeer, we suggest Mamrie Hart's special You Deserve A Drink recipe for Flaming Butterbeer. Be warned, this vid is NSFW and purposely full of terrible puns. (Are there any other kind?)
Too many of these could make you a bit of an embarrassment. So you know, go easy, lest you'll shame your house.
Cheers!
Staff writer at CinemaBlend.
Your Daily Blend of Entertainment News
Thank you for signing up to CinemaBlend. You will receive a verification email shortly.
There was a problem. Please refresh the page and try again.