Foxcatcher's Main Character Deletes His Hostile Tweets, Posts New Explanation For His Anger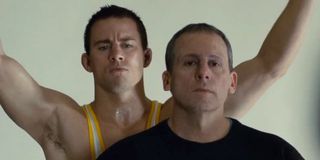 It was only a few months ago during the New York Film Festival that Foxcatcher director Bennett Miller said there was virtually no opposition from any of his film's subjects to telling this story. As it turns out, he spoke a bit prematurely, as the real-like Mark Schultz (played by Channing Tatum in the film) aggressively denounced his portrayal in the film.
However, things are becoming even more complicated, as he not only deleted the controversial tweets but released a fuller statement explaining his frustration. Taking to Facebook, Schultz released this post:
Post by Mark Schultz: Olympic Wrestling Champion.
The "harshness of my language" refers to the Twitter tirade he unleashed on December 31, as he says, "out of anger." "I HATE BENNETT MILLER," he tweeted. "I HATE EVERYTHING THAT SCUM TOUCHES. EVERYTHING!!!" As we previously stated, he has since deleted these and all further responses, but they served their purpose. The day prior to these comments, Schultz tweeted he's "under contract to support the movie until the Oscars," but that he has plans to reveal "the truth" to Katie Couric afterwards.
For those unfamiliar with the controversy, Schultz had taken issue with the way the characters' relationships and personalities were portrayed in Foxcatcher, which he called "primarily fiction" in an earlier Facebook post. In addition, he took a more aggressive stance against that particular scene hinting at a sexual relationship between the mentally disturbed John du Pont (Steve Carell) and Schultz. Though this specific verbiage has been deleted from the post, Schultz called this moment "a sickening and insulting lie."
Schultz's significant outrage was an unexpected turn of events for Foxcatcher, which is campaigning for awards attention. As the cast and director told reporters during the 2014 New York Film Festival, Schultz had been involved as a consultant and said there was "no real attempt to block or stop us" from any person with a stake in the story.
So far, the film has been nominated for three Golden Globes -- Best Motion Picture, Drama; Best Actor for Carell and Best Supporting Actor for Mark Ruffalo -- as well as two nominations for the SAG Awards. As we get closer to the big announcement of the 2015 Oscar nominees on January 15, might this controversy hinder Foxcatcher's chances?
Your Daily Blend of Entertainment News
Thank you for signing up to CinemaBlend. You will receive a verification email shortly.
There was a problem. Please refresh the page and try again.