Foxcatcher, Maps To The Stars, Others Added To New York Film Festival Full Lineup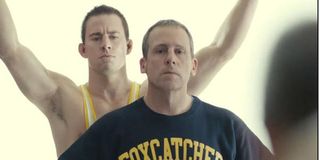 The New York Film Festival is headed into its 52nd year of excellence, and this fall, they have maybe the most decorated lineup of any of the year's rival fests. Cinephiles are thrilled with the already-announced movies, including Gone Girl earning its world premiere on Opening Night, Inherent Vice scheduled to be the centerpiece, and Birdman making its American debut on closing night. And now, the rest of the lineup has been added, and it is killer.
The flashier names are familiar to anyone who followed Cannes this year. Bennett Miller's murder mystery Foxcatcher will be a part of the fest, as will Alice Rohrwacher's The Wonders and Mike Leigh's Mr. Turner. David Cronenberg's chilly Maps To The Stars is just the latest NYFF visit for the Canadian genius, showing alongside festival faves the Dardenne Brothers and their new film, Two Days, One Night. And we're even getting a Sundance hit with Damien Chazzelle's Whiplash, starring Miles Teller.
Lauded directors from New York will be honored, including madman Abel Ferrara, showcasing the biopic Pasolini starring Willem Dafoe. Oren Moverman's Time Out Of Mind with Richard Gere will show, as will Alex Ross Perry's Listen Up, Philip with Jason Schwarztman. Perry is just one of many newer filmmakers earning their moment in the spotlight: he'll be sharing space with the late Alain Resnais' final feature, The Life Of Riley. Jean Luc-Godard will attempt 3D meanwhile with Goodbye To Language, and Olivier Assayas brings the Kristen Stewart/Juliet Binoche/Chloe Moretz film Clouds Of Sils Maria.
The New York Film Festival has earned a reputation over the years for representing a serious-minded collection of the year's best films, meticulously curated and boiled down to a slim schedule and a tight lineup. If you are in New York, tickets will be snapped up quickly to some of the biggest attractions, and this fest has many, starring the likes of Michael Keaton, Channing Tatum, Ben Affleck, Julianne Moore and Joaquin Phoenix. But if you miss out on those movies, don't worry – they'll probably be available in thousands of theaters afterwards. Sometimes that's not the case for some of the smaller films on the lineup, many of which have minimal to no distribution.
This is where you can hear the real voices of cinema. People like Pedro Costa, the unsung Portugese filmmaker who is consistently flying under the radar, here debuting Horse Money. Or Asia Argento, the madam of Italian genre cinema who filters an entire tumultuous career through the frame in her films, and who is presenting Misunderstood. Maybe you can take a chance on the prolific Korean filmmaker Hong Sang-Soo, almost an annual NYFF fixture who presents Hill Of Freedom, likely another one of his delicately-realized, quietly funny tales of contemporary middle-class Korean society. The David Fincher film will always be there. The Pedro Costa fillm will probably be a bit harder to find. If you're in New York, ultimately, you can't lose. The fest begins on October 26th.
Your Daily Blend of Entertainment News