Foxcatcher Is A Masterpiece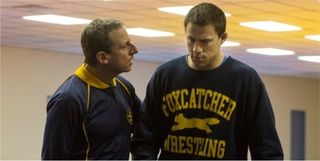 The way the Oscar race is taking shape, the Best Actor category could be stacked with some very funny actors. Charming Michael Keaton might contend for Birdman. The venerable Bill Murray will receive a push for St. Vincent. And Steve Carell, best known for NBC's The Office and the Anchorman films, is a veritable lock for a Best Actor nomination for his turn in Bennett Miller's Foxcatcher.
Only Carell isn't funny in the film. He's intimidating. He's quiet. And he's terrifying in a way I didn't think possible.
Steve Carell plays John du Pont, heir to a massive Pennsylvania fortune because he was lucky enough to be born into "America's wealthiest family." John's cold, distant and disapproving mother, Jean du Pont (Vanessa Redgrave), breeds champion horses. John prefers wrestling, which triggers him to meet with Olympic Gold medalist – and malleable lump of clay – Mark Schultz (Channing Tatum, giving his most blistering performance to date). John wants to build a peerless wrestling squad at his family's massive estate, Foxcatcher. He has unlimited resources. He has a laser focus on the sport he adores. And he collects athletes like they are pets… pets who occasionally have to be disciplined.
John du Pont is a sliver of the story. Mark Schultz is a completely separate but substantial chapter. Living off of the fumes of his Olympic victory, Mark finds that he can't escape the shadow of his older, more successful brother, Dave (Mark Ruffalo, also fantastic). The competitive drive between the siblings, as well as Mark's own self-loating, drive him right into du Pont's metaphorical arms. Finally, he feels appreciated. Finally, he feels like he's in a position to succeed without his brother's assistance. Finally, he has a replacement for the father who left him, and the coaches who didn't stick around.
Naturally, this is all too good to last.
At this point, I'm scratching the surface, and only hinting at the demons swirling in the murk upon which Bennett Miller builds his latest. Here's what you need to know. Foxcatcher is a masterpiece. If you caught either of Miller's previous films -- Capote and Moneyball -- you probably expected the goods from Foxcatcher, yet it's even better than what you could have imagined. It also adheres to Miller's style of storytelling, meaning it is moody, deliberate, haunting, probing, confrontational, but filled with a near-perfect awareness for human behavior in complicated situations. (Mommy Issues. Why does it always have to be Mommy Issues?)
I could rave about Miller's exquisite technique for days (or, approximately, the duration of an Oscar campaign). For now, I want to place emphasis on the rich, rewarding screenplay by E. Max Frye and Dan Futterman, and the performances of the three male leads. The success of all five contributors goes hand in hand. Steve Carell is going to get a lot of attention for hiding behind prosthetics and affecting a dull vocal tone to play the imbalanced billionaire. But John du Pont merely suffers the delusional ignorance that comes with extreme wealth and influence. He's never known any difference, and Carell plays him as a detached collector who doesn't comprehend why things don't go his way. The length of the pause when du Pont is told that he can't "buy" Dave Schultz's services is genius.
Mark Ruffalo brings little ego but a lot of empathy to Dave, a family man who realizes that the actions of his deadbeat parents irreparably damaged both him and his younger brother. He pushes Mark to succeed, but also wants to lend him support. It's Channing Tatum, though, who finally sheds any baggage of being more handsome than talented, the hunky dancer who dabbled in acting. Bennett Miller tends to being out the best in actors, and he taps into a brooding intensity in Tatum that no other director has tried to unearth. It's riveting to watch.
I could dig, analyze and appreciate Foxcatcher for years. All of that being said, Foxcatcher is remarkable. It is a stirring thesis about how wealthy power brokers manipulate situations, and how those without influence are seduced. The members of du Pont's wrestling squad sport matching wardrobes advertising their allegiance to Team Foxcatcher. Well, get me a t-shirt and track suit, because I am on board.
Sean O'Connell is a journalist and CinemaBlend's Managing Editor. He's frequently found on Twitter at @Sean_OConnell. ReelBlend cohost. A movie junkie who's Infatuated with comic-book films. Helped get the Snyder Cut released, then wrote a book about it.
Your Daily Blend of Entertainment News
Thank you for signing up to CinemaBlend. You will receive a verification email shortly.
There was a problem. Please refresh the page and try again.