Fred Ward Joins Denzel Washington And Mark Walhberg In 2 Guns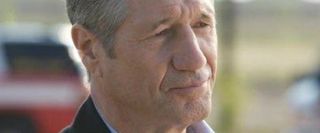 Based on Steven Grant's comic book, 2 Guns is an upcoming action movie starring Denzel Washington and Mark Walhberg. It's fitting that the two actors are finally making a film together since they've kind of become kings of the generic thriller, with this year's Contraband and Safe House serving as perfect examples. Oddly enough, this actioner also combines the latter's cinematographer, Oliver Wood, with the former's director, Baltasar Kormakur, so if you liked both of those films, 2 Guns could be a dream come true.
Universal has assembled a pretty good cast to support Washington and Walhberg, including Paula Patton, Edward James Olmos, Bill Paxton, James Marsden and, according to Variety, Fred Ward is in the mix as well. Ward was last seen in Ruben Fleischer's 30 Minutes or Less but, for me, he'll always be Earl from Tremors or Gus Grissom from The Right Stuff. The gruff and grizzled acting veteran will play an admiral in the U.S. Navy, most likely the man in charge of both Walhberg's undercover Navy SEAL and Marsden's commander.
Adapted for the screen by Rubicon writer Blake Masters, 2 Guns follows two undercover agents - Wahlberg in the SEALs and Washington with the DEA - who not only wind up on the same heist stealing money from the mob, but are completely unaware of the other's mission. After successfully stealing the $50 million dollars, they learn that it actually isn't mob money they stole, but rather money belonging to the CIA. From there they team up and work together to survive. I know I've sounded fairly cynical so far, but I hope 2 Guns proves to be an entertaining action thriller with Wahlberg and Washington at their best and bringing in actors like Ward won't hurt.
Your Daily Blend of Entertainment News
Thank you for signing up to CinemaBlend. You will receive a verification email shortly.
There was a problem. Please refresh the page and try again.