The Freddie Mercury Biopic Was Sacha Baron Cohen's Idea, Plus More Details On The Project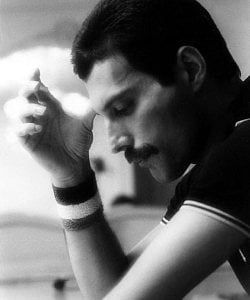 Peter Morgan is one of the busier screenwriters working today, as his two Oscar nominations for Frost/Nixon and The Queen have him in demand for seemingly every high-caliber film that comes down the pipe. His latest effort Hereafter is now a film directed by Clint Eastwood coming out next Friday, but he's got any number of exciting projects coming up, including the one I was most curious to ask about when I interviewed him today-- the untitled Freddie Mercury biopic.
We learned last month that Morgan was scripting the biopic for Sacha Baron Cohen to star as the legendary Queen frontman, and he revealed to me today that Baron Cohen isn't just perfect casting, but the entire project was his idea-- "Sacha was the one who asked me to write it. He was the guy who rang me up." I asked him why the movie was intended to focus more on Mercury's musical career than his personal life-- including dying of AIDS in 1991-- and Morgan gave me a frank answer:
The surviving members of Queen-- Brian May, Roger Taylor and John Deacon-- are collaborating on the project as producers, and though Morgan said he would use their input to recreate the history of the band, it wasn't going to be a puff piece or even necessarily show them in a good light:
The time he's referring to is the period leading up to the famous 1985 Live Aid concert, when the band took time off from touring before facing harsh criticism for performing in South Africa during the apartheid era. Presumably Morgan will be exploring some of the conflicts within the band at the time, though as he explained, "I'm only on page 56" of the script, so there's plenty of time for all of this to change.
He also wasn't certain whether or not Baron Cohen would be performing the songs or simply lip-synching to Mercury's original songs, but seemed as enthused as I am about how perfect Baron Cohen is for the role. The Freddie Mercury project is still set to start production in 2011.
We'll have the rest of my conversation with Morgan on Hereafter, including why he never expected a star as big as Matt Damon to play his role, posted tomorrow, so come back to check it all out.
Your Daily Blend of Entertainment News
Staff Writer at CinemaBlend