The Furious 7 Honest Trailer Points Out Some Serious Problems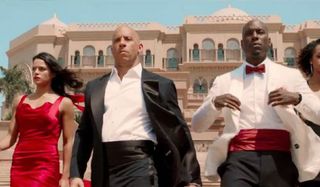 Furious 7 was the equivalent of Donald Trump's presidential campaign: loud, dumb, and entertaining to the point where you actually feel guilty for watching it. Because of these traits, the movie was always going to be perfect for Honest Trailers - and the video series has now duly obliged with a rip-roaring installment, which also reveals that the film had the best Japanese title in the history of Japanese titles.
I think we can all agree that the world is a better place because the Japanese re-named Furious 7 as Wild Speed: Sky Mission. In fact, it makes me instantly sad that I'm not Japanese.
As pointed out by this Honest Trailer, just like the last few Fast & Furious films, Furious 7 saw the gang coming together for one final mission, as Jason Statham's Deckard Shaw sought revenge for treatment of his younger brother in Fast & Furious 6. However, in amidst the action, Vin Diesel's character also has a perfectly pitched goodbye to Paul Walker's Brian O'Conner that audiences can't help but shed a tear watching.
Speaking of Dominic Toretto, we should all really stand up and applaud just how spell-bindingly ridiculous this man is. Not only did he get married in a tank-top, but each and every one of his plans ends with him either driving off a cliff, driving out of a plane, or driving out of a building. And, God, do we love him for it.
Of course, even though the gang succeeded with their so-called final mission, they are now set to get together for yet another final ride for Furious 8, which has already been greenlit and will be with us on April 14, 2017. This one will see the team wind their way around the streets of New York for some extravagant reason. If there's a God up there, then we will also then see Furious 9 follow with Vin Diesel, Michelle Rodriguez, Tyrese Gibson, Dwayne Johnson, and Chris Bridges up in space too.
Until then, we can just marvel over how gloriously over the top and relentless stupid Furious 7 is. Not only are cars reversed out of planes, but they're driven out of 130-story building into another building. And then another building after that. It's actually impossible to try and imagine how they're going to top the film.
Considering that Furious 7 grossed $1.512 billion at the box office to become the fifth-highest-grossing film of all time, Universal should put plenty of money behind Furious 8 to make it even more spectacular than its predecessor. We're probably going to learn more about the eighth instalment to the ever-improving franchise in a few months' time, as production should get under way at some point in the early months of 2016.
Your Daily Blend of Entertainment News
Thank you for signing up to CinemaBlend. You will receive a verification email shortly.
There was a problem. Please refresh the page and try again.