Gael Garcia Bernal To Play Boxer Roberto Duran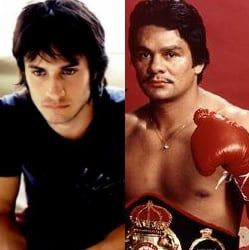 Gael Garcia Bernal made a weird venture into mainstream romantic comedies earlier this year with Letters to Juliet, but the Mexican actor famous for Y Tu Mama Tambien and The Motorcycle Diaries still seems to have a reasonably good head on his shoulders when it comes to picking new projects. According to The Wrap, Bernal is now set to star in Hands of Stone, a biopic about the boxer Roberto Duran. The project will be written, directed and produced by Venezuelan filmmaker Jonathan Jakubowicz, who had this to say about his film's subject:
Al Pacino is considering the role of trainer Ray Arcel, who prepared Duran for a series of bouts against Sugar Ray Leonard in the 1980s, including the famous "No Mas" bout in 1980, when Leonard bested Duran. Ben Silverman, the onetime head of programming at NBC, will be producing the film in what he says is an active attempt to tap into the Hispanic market:
If we've learned anything from boxing movies in the past, from Raging Bull to this year's The Fighter, a strong central performance is what it takes to make these things succeed. Bernal is known for being more slight and insanely handsome than a tough as nails boxer, but these movies are almost always as much about the actor's transformation off the screen than whatever happens in the movie itself. The film isn't officially greenlit yet, but I'd imagine Bernal is already getting very, very familiar with the interior of a gym right now.
Your Daily Blend of Entertainment News
Staff Writer at CinemaBlend