General Zod's Eyes Glow Red In New Man Of Steel Images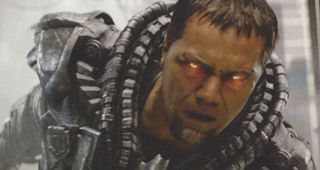 Man of Steel! Suddenly it's the summer superhero movie that everyone can agree on, since Iron Man 3 is already upon us, The Wolverine continues look mysteriously stagnant, and Kick-Ass 2 is deliberately divisive. The latest trailer was a real heartstring tugger, focusing on Clark's sense of displacement between two worlds, but it also suggested some intriguing Easter eggs, like a cameo from Lex Luthor. Amazingly enough, these latest images from the film that debuted at Empire are nearly as fascinating, especially with that shot of General Zod's (Michael Shannon) eyes glowing red.
You can see more slightly grainy scans from the magazine at Coming Soon, but right now the best looking images are the magazine's two covers, one for Supes himself (Henry Cavill) and one for the terrifying Zod.
Coming to theaters on June 14, Man of Steel is the Superman story that we don't exactly need-- who doesn't know how alien baby Kal-El came to be Clark Kent?-- but that might turn out to be exactly what Superman needs to re-enter the public consciousness. We've been celebrating snarky superheroes like Wolverine and Iron Man, or tormented do-gooders like Spider-Man, for the last decade. It was only with 2011's Captain America: The First Avenger that it really started to seem possible that a good-hearted, All-American hero could resonate with modern audiences, especially after the disappointment of Bryan Singer's Superman Returns. Henry Cavill remains kind of a blank slate, and Zack Snyder still has a lot of territory to cover to make up for Sucker Punch. But Man of Steel is currently looking far more promising than I ever expected, and that's reason enough to be optimistic-- just how Superman would want it.
Your Daily Blend of Entertainment News
Staff Writer at CinemaBlend