George R.R. Martin's Wild Cards Books Headed For The Big Screen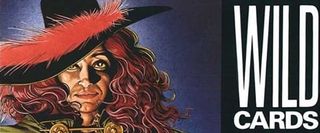 Hollywood has been on a superhero bender for the past decade or so, but now they have a problem: most of the top-tier heroes have been made into movies already. Sure, you can explore some of the lesser-known heroes (it certainly worked for Iron Man and Thor) or you can reboot existing franchises less than a decade after they first launched. But while all the third-tier heroes getting screenplay adaptations, there's one giant chunk of super-heroic goodness that has never been exploited, an elaborate comic-style mythology featuring decades of history and dozens of well-developed characters: I'm talking about the Wild Cards books, and now it looks like I'm not the only one. Deadline reports that Syfy Films has picked up the rights to the George R.R. Martin's shared-universe superhero anthology series.
Launched back in 1987, the Wild Cards books envision an alternate history where an alien virus is unleashed over New York City during World War II. The virus spreads across the globe, affecting people in different ways; most are killed, but some are stricken with terrible deformities and are dubbed "Jokers." A tiny fraction of people gain amazing abilities and are referred to as "Aces." As always seems to happen, many of these characters don costumes and new identities, either to protect law and order or to undercut it. The series included stories by science fiction writers such as Martin himself, Roger Zelazny, Walter John Williams, and Melissa Snodgrass. The property has also been adapted into comics and role-playing games over the years.
George R.R. Martin will be executive producing the film along with Melissa Snodgrass, who is slated to pen the screenplay. Assuming all goes well, Syfy Films is aiming to make the first Wild Cards movie the beginning of a franchise. Having read a few of the Wild Cards books myself back in the day, this is exciting news. The series puts a unique and adult spin on the concept of superheroes, more in the vein of Watchmen than Spider-Man. Then again, the underperformance of Watchmen may have tainted the well when it comes to R-rated comic movies. Does that mean we'll be getting a watered-down version? I hope not. In the mean time, I'm excited about the news, but a part of me can't help but be disappointed that it didn't become an HBO ongoing series instead.
>
Your Daily Blend of Entertainment News
Thank you for signing up to CinemaBlend. You will receive a verification email shortly.
There was a problem. Please refresh the page and try again.