Gerard Butler To Protect The White House In Olympus Has Fallen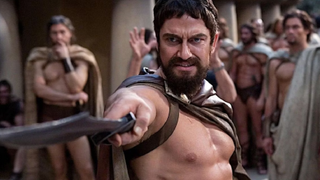 (Image credit: Warner Bros. )
After ending what seems like the world's smoothest and least-publicized stint in rehab, Gerard Butler has wasted no time setting up a lot of work for his newly healthy self. At the end of February he signed on to reunite with his The Ugly Truth director Robert LUketic for the diamond heist thriller Brilliant, and now he's got an even more high-stakes job lined up. According to Variety Butler will star in Olympus Has Fallen, about an ex-Secret Service agent called back into duty when he's suddenly the only person who can defend America against the terrorists who have taken over the White House.
That sounds…. insane. But also kind of fantastic, since as Variety themselves point out, it's basically Die Hard set in the White House-- an idea so obvious and brilliant I'm amazed John McClane himself didn't do it at some point. Butler has had big action star potential ever since his breakout role in 300, but he's never quite been able to capitalize on it, winding up in stuff as random as Nim's Island and P.S. I Love You, and only going for the action stuff in crap like Gamer and Law Abiding Citizen. He proved in last year's Shakespeare adaptation Coriolanus that he can really hold the screen with both a physical presence and acting chops, and if he brings even a fraction of that strength to Olympus Has Fallen, he might really have what it takes to be the new generation of John McClane.
Millennium Films just acquired the Olympus Has Fallen spec from writers Creighton Rothenberger and Katrin Benedikt, so it will likely be a while before the project gets going in earnest.
Your Daily Blend of Entertainment News
Staff Writer at CinemaBlend