Giveaway: Turbo Charged Fast And Furious Prizes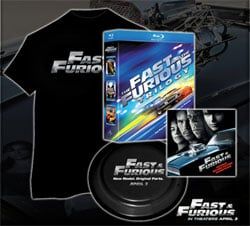 In theaters April 3rd. Vin Diesel and Paul Walker re-team for the ultimate chapter of the franchise built on speed - Heading back to the streets where it all began, they rejoin Michelle Rodriguez and Jordana Brewster to blast muscle, tuner and exotic cars across Los Angeles and floor through the Mexican desert in the new high-octane action-thriller. To turbo-charge the Diesel powered sequel, we're giving away three pretty great Fast and Furious movie prize packs.
Three (3) Cinema Blend winners will receive:
• Blu-Ray Trilogy of the Fast and the Furious ($75 value)
• Official Movie Soundtrack from Fast & Furious in stores 3/31
• T-Shirt
• Mint Tin
• Frisbee
To enter the Cinema Blend – Fast & Furious giveaway, simply leave a comment below. Comments MUST be received by Monday April 6th at 11:59pm EST. Three winners will be selected randomly. Winners will be contacted via the email address submitted with the comment to get a mailing address. No need to leave your email address in the body of the comment - just be sure to include it in the field that says "email." If you don't leave it, we can't contact you, and we'll just keep the prizes for ourselves (or, more likely, pick a different winner - one who can read directions).
Your Daily Blend of Entertainment News