The Golden Globes Overlooked One Of The Year's Best Performances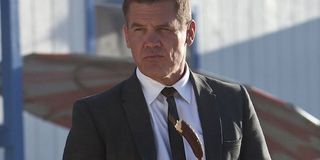 As today's Golden Globe nominations reveal, the Best Supporting Actor category is going to easily be one of the most contentious fields of the 2014 award season. In addition to this year featuring many outstanding leading men roles, we have also seen some truly incredible smaller character work from actors like J.K. Simmons, Edward Norton and Mark Ruffalo. That being said, the Golden Globes have made the mistake of failing to nominate the true best supporting actor performance of the year: Josh Brolin's turn as Lt. Det. Christian F. "Bigfoot" Bjornsen in Paul Thomas Anderson's Inherent Vice.
Because the film won't be out in limited release until this weekend – meaning that most of you have not had the chance to see Brolin's brilliant turn yet – allow me to offer a quick breakdown of the character. Ripped from the pages of Thomas Pynchon's novel, Bigfoot is the kind of guy who refers to himself as a "renaissance cop," not only busting heads, breaking cases, and violating civil liberties as a police officer, but also picking up acting work wherever he can get it in 1970 Los Angeles. Progressive as that may sound, however, the truth is that he's a flat-top sporting, door-busting 1950s era policeman who has personally fallen behind in the times and is still more than a decade behind on catching up to the 1960s let alone the 70s. He takes pleasure it not just fucking with the lives of hippies, but screwing with their minds as well – which, naturally, repeatedly happens every time that he is around Joaquin Phoenix's pot smoking private detective Larry 'Doc' Sportello.
As you may have figured out by this point, Bigfoot is a densely layered character that surely any actor in Hollywood would have truly loved to sink their teeth into, but the truth is that after watching Josh Brolin's performance, any other star in the role is unimaginable. It's a challenge to really dig into details without giving away any spoilers – which I have no intention of doing – but there is an incredible duality that exists in the character that Brolin's particular brand of steely charisma is absolutely perfect for. He will make you laugh until you cry when he is actively and openly trying to addle Doc with sexual hand gestures and paranoia-inducing late night phone calls, and Brolin is able to sell it all with a perfect mix of stone face and childish grins. At the same time, Pynchon's story and P.T. Anderson's script is able to toss some heavy, dark history the character's way, and Brolin just folds it away into the character to the point where you can eventually see it influencing everything he does. The performance is a work of art, and one that the Hollywood Foreign Press Association has tragically ignored.
Looking at the list of actors who did manage to secure nominations this year, it's also incredibly easy to spot the outlier of the group. J.K. Simmons, Mark Ruffalo, Edward Norton and Ethan Hawke each respectively earned incredible praise for their turns in movies that the Golden Globes deemed the best of the year, Robert Duvall has picked up a nod for a fairly average turn in a below average movie, The Judge. Looking back to the past, it's worth noting that the HFPA has consistently shown itself to be on Team Duvall (this is his seventh nomination and he's won four total trophies), and it's not outside the realm of reason that the organization wants to recognize him again now that he is starting to get up there in years. Brolin, meanwhile, has never received a single Golden Globe nomination, even when other highly reputable groups (like The Academy) have celebrated his work in titles like Milk and No Country For Old Men.
Moving beyond the stupid politics of award season, Josh Brolin was given an incredible challenge to try and stand out in Inherent Vice - a movie littered with all kinds of crazy supporting characters backed by excellent performances – but the guy's talent and genius approach allow him to do just that. Paul Thomas Anderson's latest film didn't get nearly enough attention on the whole, scoring only one nomination, but the Golden Globes' biggest swing and miss was not delivering Brolin the immense credit that he deserves.
NJ native who calls LA home; lives in a Dreamatorium. A decade-plus CinemaBlend veteran; endlessly enthusiastic about the career he's dreamt of since seventh grade.
Your Daily Blend of Entertainment News
Thank you for signing up to CinemaBlend. You will receive a verification email shortly.
There was a problem. Please refresh the page and try again.