Gorgeous Toy Story 3 Concept Art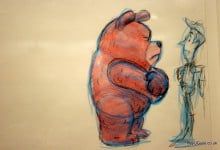 So, I saw Toy Story 3 last night, and I'm still sort of stuck in it. I go into Pixar films expecting to be transported and to fall in love with them, but I'm always a little bit surprised at just how taken away I get; this one is beautiful, endearing, funny, and just a little bit heartbreaking. Josh Tyler's review here sums it up nicely. Nutshell: Go see it. What are you waiting for?
My second favorite thing about Pixar films is the immersive, thoughtful worlds built around them; in my household, the inevitable coffee-table books make for excellent (and coveted) holiday gifts. We've got a little bit of a treat for you today on that front, as our friends across the pond at HeyUGuys have posted a whole slew of concept drawings and other goodies from Toy Story 3.
We've posted a few sample images below, see even more over there.
Your Daily Blend of Entertainment News