Green Lantern Has An Official Title, Basic Direction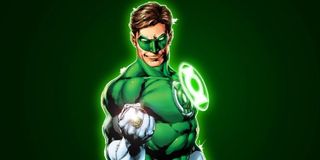 If you've been waiting to hear something, anything about the upcoming Green Lantern movie, the update you've been craving is finally here. Kicking off the DC portion of the Warner Bros. panel, the studio announced the official title of the reboot and released the first official details on what to expect.
First things first, the Green Lantern movie will be called Green Lantern Corps. And you know what that means, right? There will be multiple Lanterns! The big Hall H panel on Saturday morning began with a comic reel highlighting the history of DC Comics and their relationship to the movies, and it was here that the WB dropped this massive bomb on us all.
Tyrese Gibson has been teasing a role in the film on his Instagram account, posting fan-made images to his page and hinting at meetings with the studio. Meanwhile, Chris Pine is reportedly up for a DC Comics movie role, as well. At first it was thought he'd be playing the main male role in the Wonder Woman film, but intel changed to suggest he could be showing up as a Lantern instead. With this new information about the Lantern Corps, both are possible.
The Green Lantern Corps. is an intergalatic police force that keeps watch over the 3,600 sectors of the universe. Hal Jordan (played on-screen by Ryan Reynolds in the 2011 film) is one of the more famous members, as are the earthbound John Stuart and Alan Scott. The Lanterns have the power to will virtually anything into existance by way of their power rings. Anything from constructs to force fields to armor to blasts to floating green fists are fare game.
Green Lantern Corps is scheduled to hit theaters on June 19, 2020, which now seems farther away than ever.
Your Daily Blend of Entertainment News