Gritty New Conan The Barbarian Reboot Photos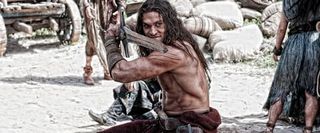 No matter the language, Jason Momoa looks like a complete badass in Marcus Nispel's Conan the Barbarian reboot/prequel/3D adventure. A 37-photo gallery has been posted on the French Web site Fantasy.fr, giving us all sorts of shots of the legendary warrior on his personal vendetta through Hyboria. We've posted a few of our favorites below.
Couple these gritty images with the gory red-band trailer that was released a little while back, and Conan looks like it could be a gutsy guilty pleasure for sword-and-sorcery fanatics. Not that we would expect much else from Nispel, who has resuscitated two classic horror franchises in The Texas Chainsaw Massacre and Friday the 13th. I also admire his casting for Conan. Outside of the Hawaiian-born Momoa, who just played Khal Drogo on HBO's Game of Thrones, Nispel also has cast Stephen Lang, Rachel Nichols, Rose McGowan and the great Ron Perlman as Corin, a leader of the Cimmerians who happens to be Conan's father.
If only Conan wasn't coming out in 3D, we could be a little more excited by it. The enhanced technology hasn't really helped any film this summer. Even Michael Bay's third Transformers, which was supposed to have been filmed using 3D cameras to take advantage of the latest breakthroughs in the overrated technology, looked fairly pedestrian. Maybe that's because some of the background footage was recycled from Bay's 2005 thriller, The Island.
As for Nispel's Conan, it will be in theaters starting on Aug. 19.
Movie junkie. Infatuated with comic-book films. ReelBlend cohost. Resident dad. Extroverted introvert. Wants to see the Snyder Cut. Managing Director at CinemaBlend.