Is Guardians Of The Galaxy 2 Going To Bring Back Ronan?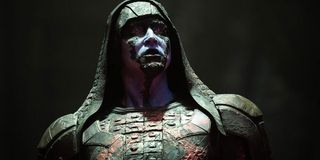 Any fan of the comic book medium will tell you that characters only very rarely actually die. Because of the practically unlimited powers of science and magic that are present in superhero worlds, there is always a special way that a hero or villain can be resurrected even after being declared dead. In the Marvel Cinematic Universe so far, we have yet to really see anything like this play out in any kind of majorly significant way, but it's really only a matter of time. With that in mind, there is at least one actor out there who would love to see his character someday return from the grave: Guardians of the Galaxy's Lee Pace.
The actor - who played the villainous Ronan the Accuser in James Gunn's 2014 blockbuster - recently expressed these wishes while sitting down for a chat with IGN promoting his television series Halt and Catch Fire. It's true that Ronan was turned to space dust thanks to the power of the Infinity Stone wielded by Star-Lord (Chris Pratt), Gamora (Zoe Saldana), Drax (Dave Bautista) and Rocket (Bradley Cooper), but Lee Pace would be more than happy to see the psychotic Kree warrior come to life again somewhere down the line. Noting that he would probably be the last person to be notified about his character's return, Pace told the site, "I love the character. I'd love to play him again! Who knows!?"
While the idea of bringing Ronan back to life may seem somewhat ridiculous, it's not that necessarily that far-fetched a notion when you consider what Marvel Studios has cooking in the next four years. For starters, Guardians of the Galaxy 2 is right around the corner, and it wouldn't be the craziest thing in the world to see Lee Pace's character show up. After all, Ronan obviously had a pretty important relationship with Gamora, Thanos (Josh Brolin) and Nebula, and the sequel could possibly explore that relationship a bit more. Of course, that would probably be done with flashbacks rather than a return from the dead.
Really, if I were to put money on any potential place for Ronan to reappear it would be during the events of The Avengers: Infinity War Parts 1 & 2. When Thanos collects all of the Infinity Stones and wields the Infinity Gauntlet, he's literally given the powers of a god, and can control everything in existence, from time to reality. It's true that Thanos probably wasn't too happy that Ronan betrayed him during the events of Guardians of the Galaxy, but I wouldn't count it as an impossibility that the Mad Titan could resurrect him and use him as a weapon in his battle with The Avengers. Really, this honestly could be said about all of the supervillains whom we've seen get killed in Marvel movies over the years. Well, maybe with the exception of Mickey Rourke's Whiplash.
Would you want to see Lee Pace's Ronan The Accuser return at some point in the future of the Marvel Cinematic Universe? Or are you fine seeing him left behind? Tell us what you think in the comments below.
NJ native who calls LA home; lives in a Dreamatorium. A decade-plus CinemaBlend veteran; endlessly enthusiastic about the career he's dreamt of since seventh grade.
Your Daily Blend of Entertainment News
Thank you for signing up to CinemaBlend. You will receive a verification email shortly.
There was a problem. Please refresh the page and try again.