Gus Van Sant To Direct Matt Damon And John Krasinski In Untitled Drama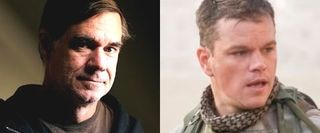 Yesterday the disappointing news broke that Matt Damon had abandoned his plans to make his directorial debut, with an untitled project that he co-wrote with Dave Eggers and would star in opposite John Krasinski. Not all was lost though-- Damon was still planning to star in the film, presumably under the tutelage of whichever replacement director he chose. And proving that you can't go wrong by sticking with what you know, Damon has chosen his Good Will Hunting director Gus van Sant to replace him, putting the film on track to start shooting in early April.
According to Deadline, the movie will be a "Capraesque" film in which Damon and Krasinski play rival corporate executive-- Damon's character will presumably be the Jimmy Stewart type, who arrives in a small town and starts questioning his entire life. The movie is apparently budgeted at $15 million, which is pennies compared to the films Damon commonly stars in, but pretty much the combined budget of many of van Sant's films like Paranoid Park, Elephant and Gerry (which, of course, starred Damon).
Van Sant is capable of almost anything as a director, and more importantly, he's got a good relationship with Damon, which means we might see some of what would have been the actor's directorial vision after all. And by the way, the rumored "script problems" that made Damon back away don't seem to be the case-- Deadline says Damon didn't think he'd be able to set aside the time to do the directing, and The Playlist says that his commitment to shooting Elysium and some unknown personal issues were getting in the way. So while we still won't get the Matt Damon directed film we were looking forward to, this still looks like it will be the next best thing.
Staff Writer at CinemaBlend