Haley Bennett To Headline New Thriller From The Director Of Donkey Punch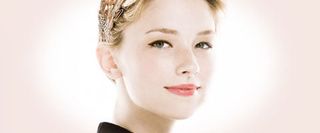 Ingenue Haley Bennett has had a rocky rise since her screen debut with a supporting role as pop sensation Cora Corman in the forgettable romantic comedy Music and Lyrics in 2007. A lead role in the horror movie The Haunting of Molly Hartley followed, but that flick was scorned by critics, and her next lead turn in 2009's The Hole didn't debut domestically until this year. However, Bennett's prospects are on the rise as she is currently filming Terrence Malick's latest feature—not To The Wonder or Knight of Cups, the other one—which may not have a title but does boast an insanely prestigious ensemble that includes Michael Fassbender, Natalie Portman, Christian Bale, and Cate Blanchett. Very little is known about Malick's nameless feature, but already its scoring Bennett renewed buzz as she's signed on to return to horror and leading roles for Kristy.
Penned by Vanishing on 7th Street scribe Anthony Jaswinski, Kristy is a thriller that follows a college student—presumably named Kristy—who remains behind on an essentially deserted campus over Thanksgiving break. But her solitude is disrupted and life threatened when she stumbles across a violent gang that decides she will be their next victim. If Kristy is to survive, she must overcome her fears and use her wits to fight back.
Basically, this sounds like a nightmarish take on Home Alone, but Variety is describing the film as a Rosemary's Baby brand of thriller. What this likely translates to is that Kristy will be a psychological thriller; there won't be much gore, but the tension and terror will rise from being closely tied to the protagonist who is not only alone, but also forced to the brink of insanity by her perilous predicament. All this makes the producers' pick for director, Oliver Blackburn of Donkey Punch, just about perfect.
Chances are good you haven't seen Donkey Punch, maybe because it was a low-budget British thriller with no stars to speak of, or maybe because its title is absurd. First off, yes, the title refers to that donkey punch. But actually, the movie is pretty solidly scary. It centers on three friends who are looking to have a fun getaway in Spain, when they meet some boys who promise them some fun on a boat. First things turn kinky then dark as one incredibly ill-advised sex move turns murderous. Now the boaters are divided by what to do, and tensions rise almost as fast as the body count.
Ridiculous title aside, Donkey Punch is a titillating and terrifying thriller, in part because it's carefully based in a conceivable reality, albeit the kind that's often the talk of grocery story gossip rags. From the premise, it seems Kristy is similarly set up, and so Bennett and Blackburn appear to have a solid base to make something equally entertaining and disturbing.
Your Daily Blend of Entertainment News
Staff writer at CinemaBlend.
Your Daily Blend of Entertainment News
Thank you for signing up to CinemaBlend. You will receive a verification email shortly.
There was a problem. Please refresh the page and try again.